"Our stories start and end with people."
Issue NC is a community publication that covers how national issues impact North Carolinians. Liz Moomey and I co-founded Issue NC in November 2016 to start an open dialogue in our community and bring local voices to the forefront of these conversations. To do this, we experimented with new reporting styles and let readers' voices shape the direction and design of a story. By leading with readers' thoughts, views and experiences, we told a more well-rounded story for each Issue, rather than seeking out one angle or perspective. Since launch, we have covered what motivates our community, feminism, the environment, patriotism, education, race relations and North Carolina state pride. In our Voices series, we covered the Women's March, March for Our Lives, Rally for Respect and Families Belong Together March in Raleigh.

Liz and I work closely together as a writer-designer team to create an engaging and cohesive storytelling experience for each Issue. As the designer on our team of two, I create all graphics, take portraits and lead creative direction for our site and story pages. I also facilitated design-thinking exercises to define our goals, audience and position.
Across our seven Issues and four Voices, we have shared 98 personal stories. The infographics and illustrations in each article elevate community voices and invite discussion on these important issues.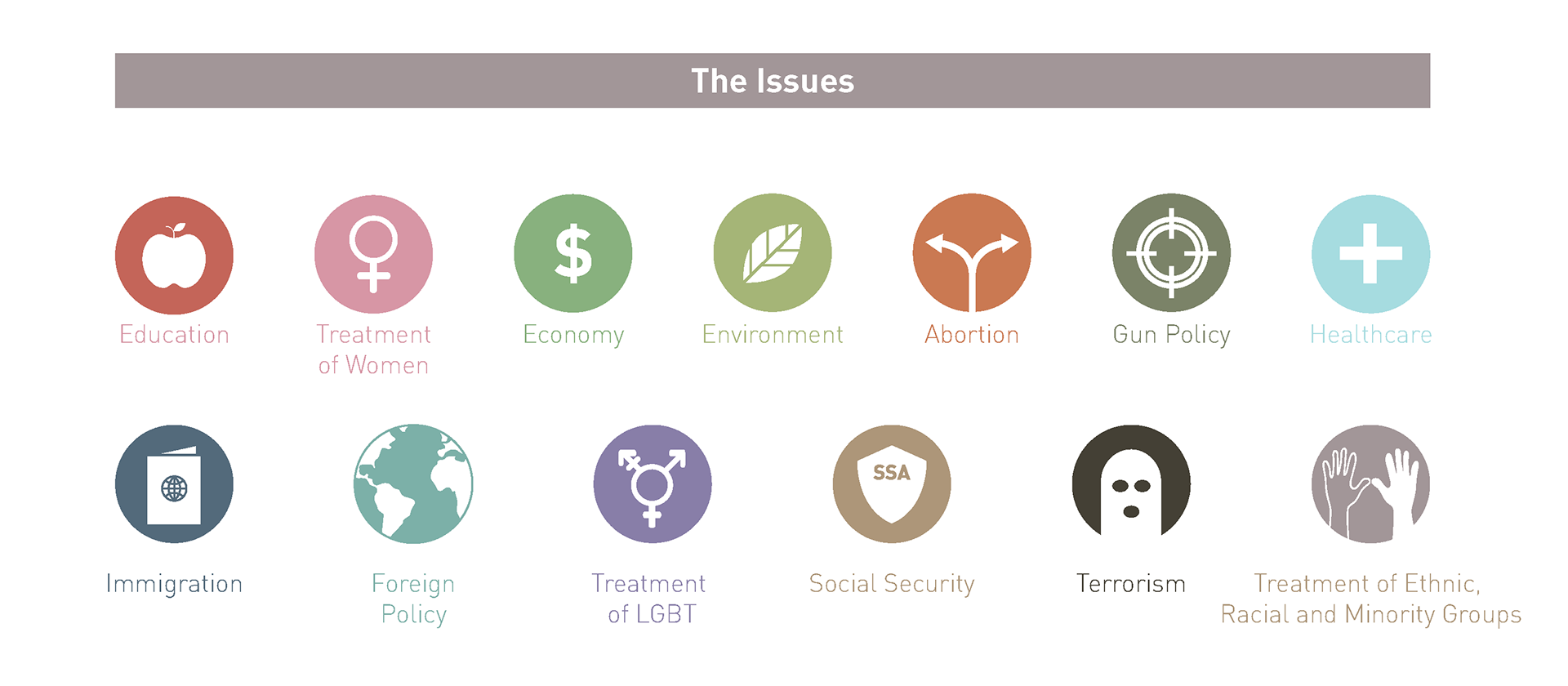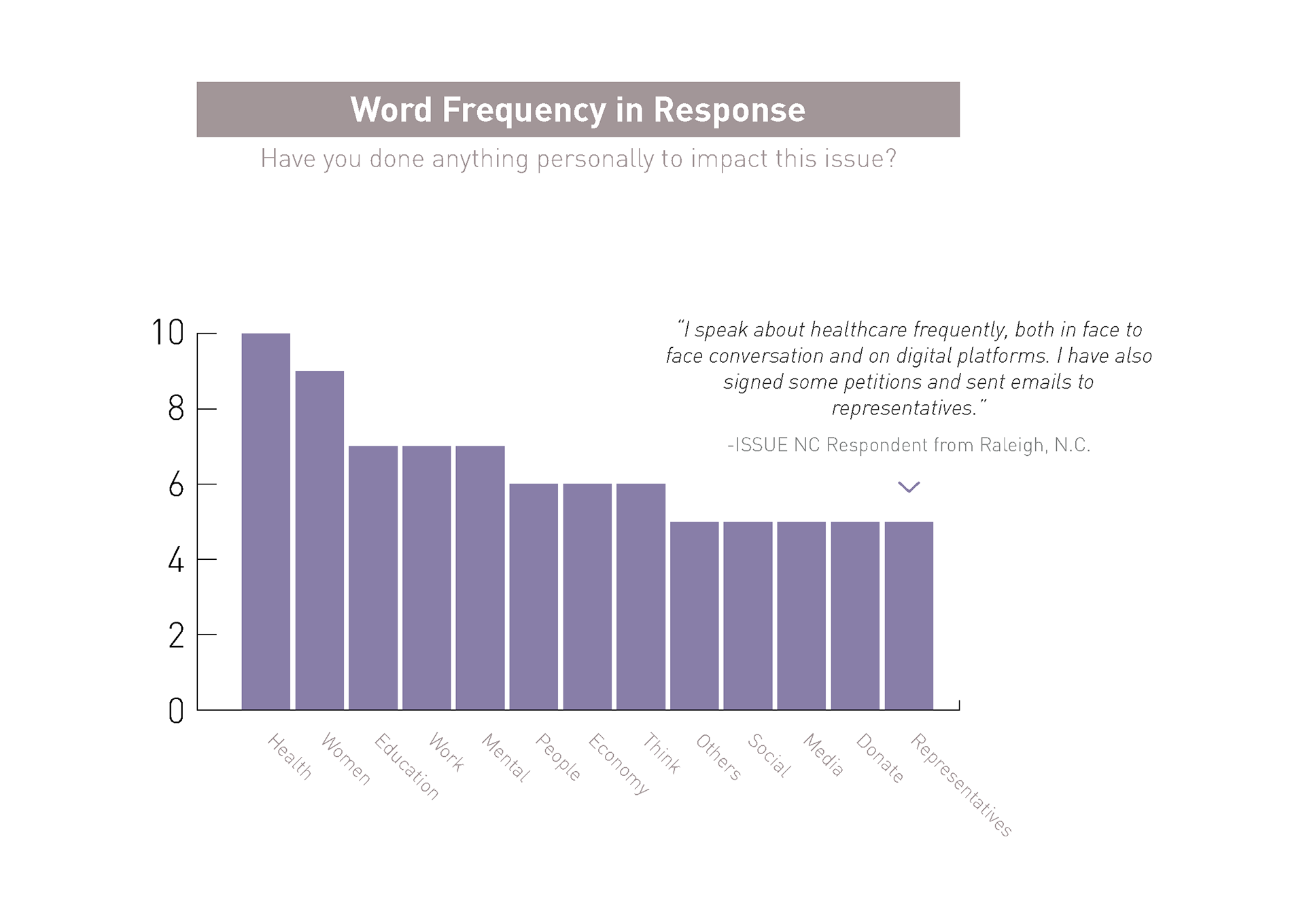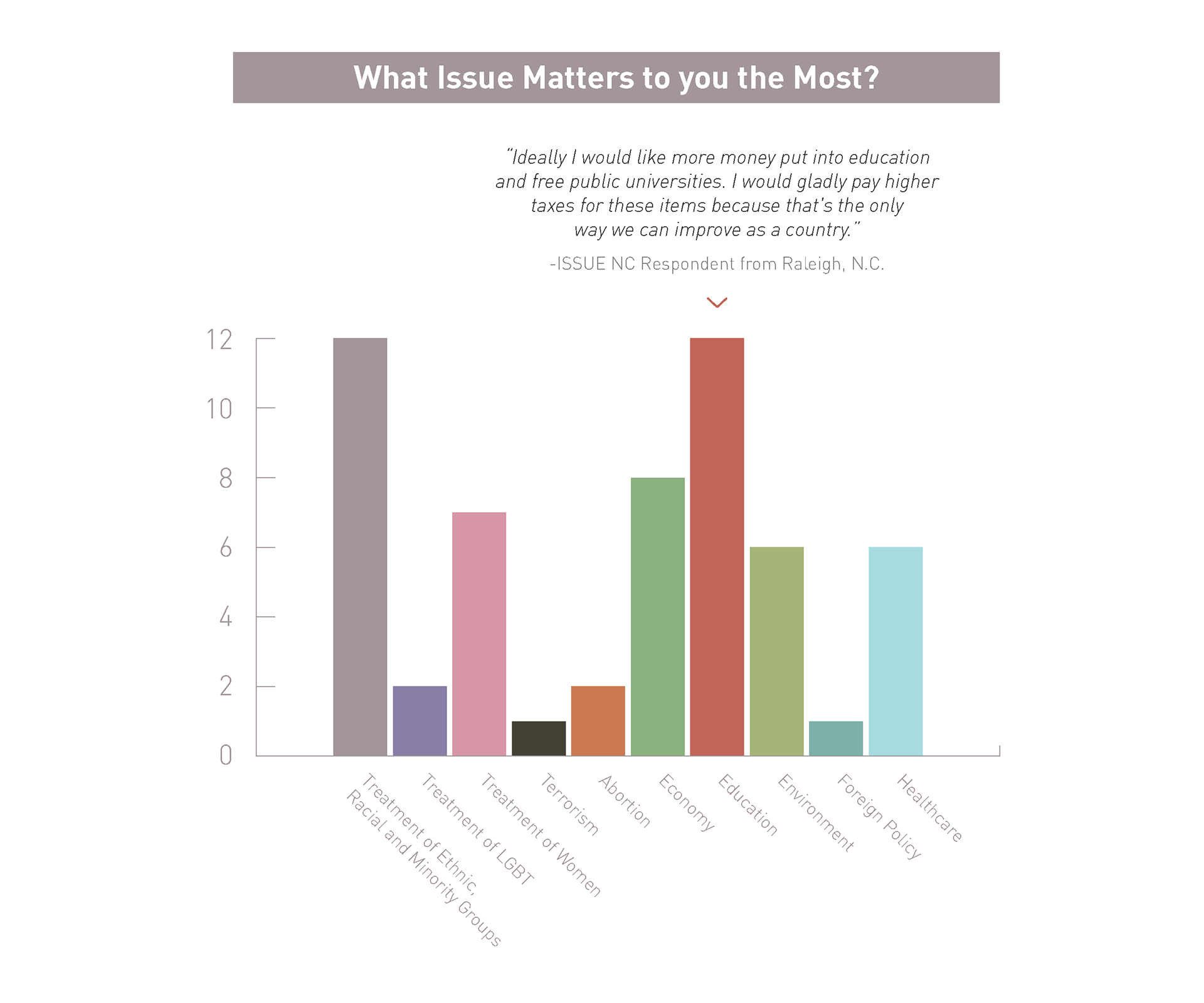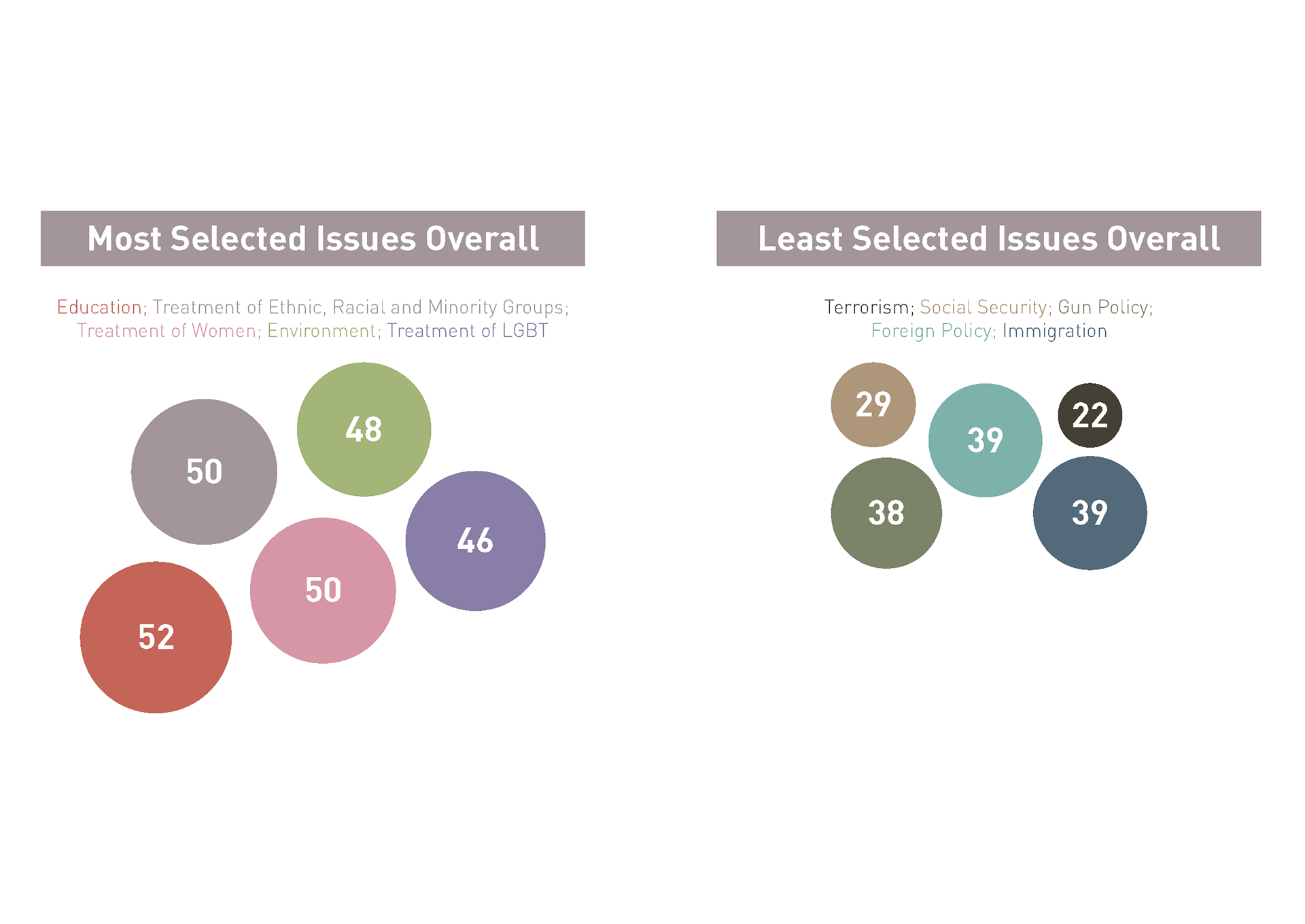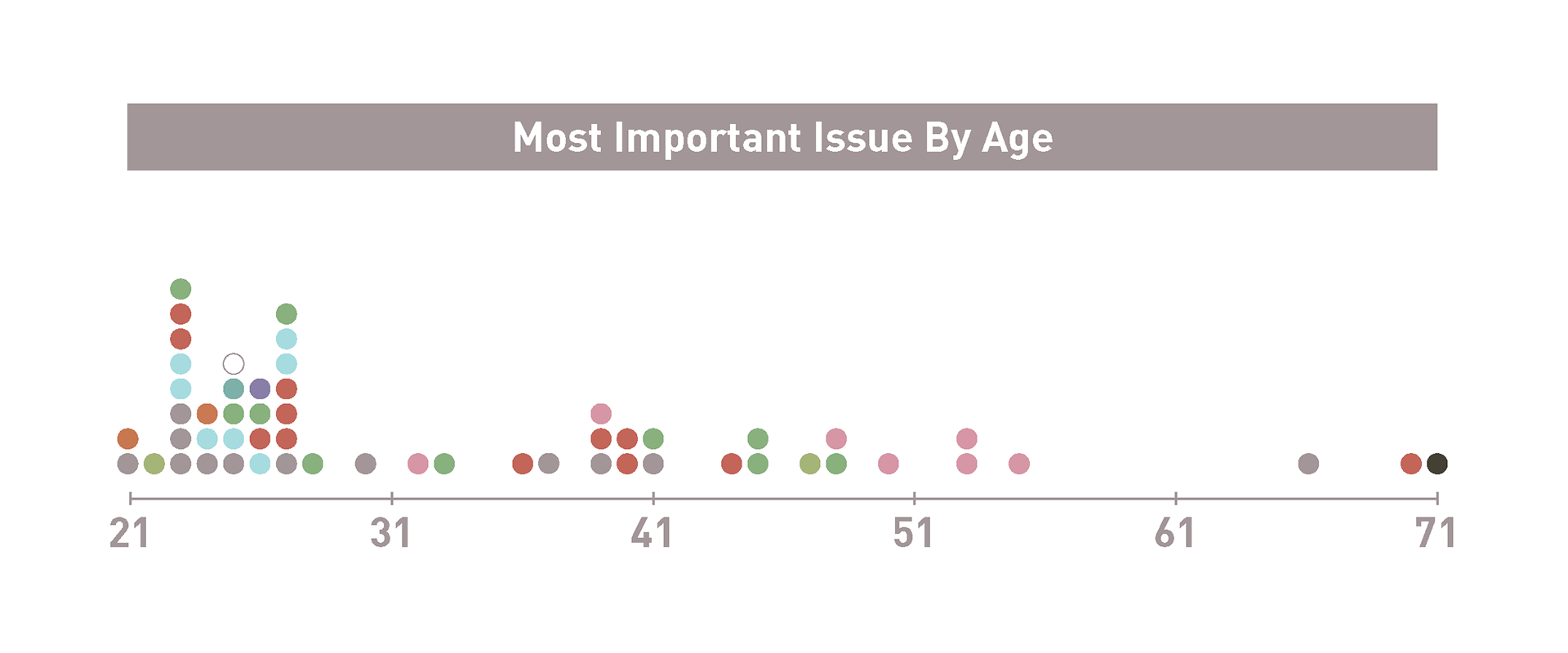 Issue I: What Motivates You?
For our first issue, we wanted to understand what issues were most important to your community. We posted a survey in mid-November that asked respondents to share their motivators in addition to the issues most important to them on the ballet. From the 58 responses, we interviewed 11 people about their motivations on the ballot and in their daily life.
Read more
.
I utilized color to represent each issue and show patterns in responses. Many respondents focused on social issues such as education, treatment of women, and treatment of ethnic, racial and minority groups. They also used words related to work, health and relationships when describing their motivators. On each portrait, I overlaid the icons representing the issues they said were important to them, highlighting the variety amongst our interviews.
"For better or for worse, I think the most passionate people can be the ones that also have their blinders on. So I really appreciate people that believe what they believe but are also willing to accept the logic of the other side."
–Bethany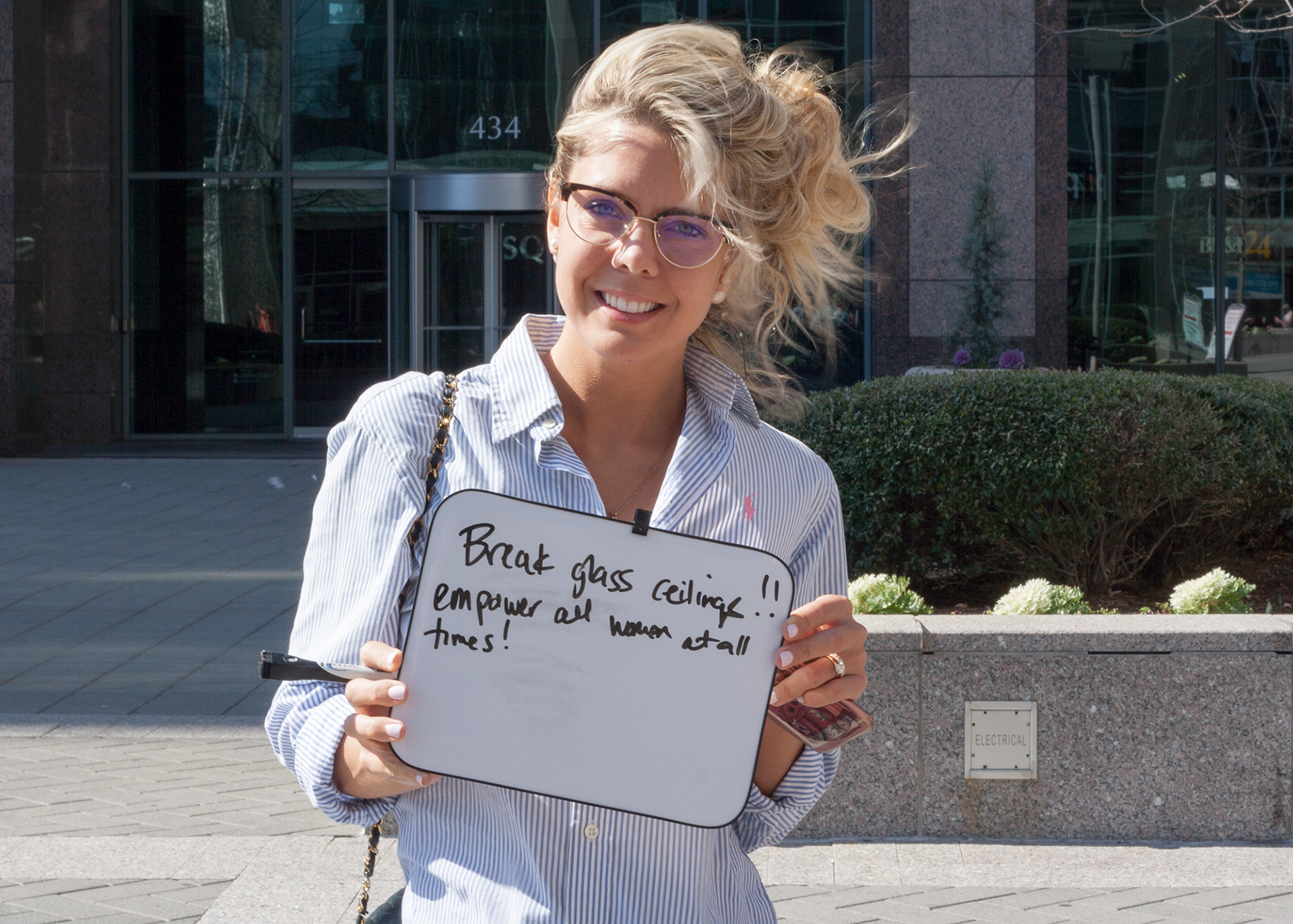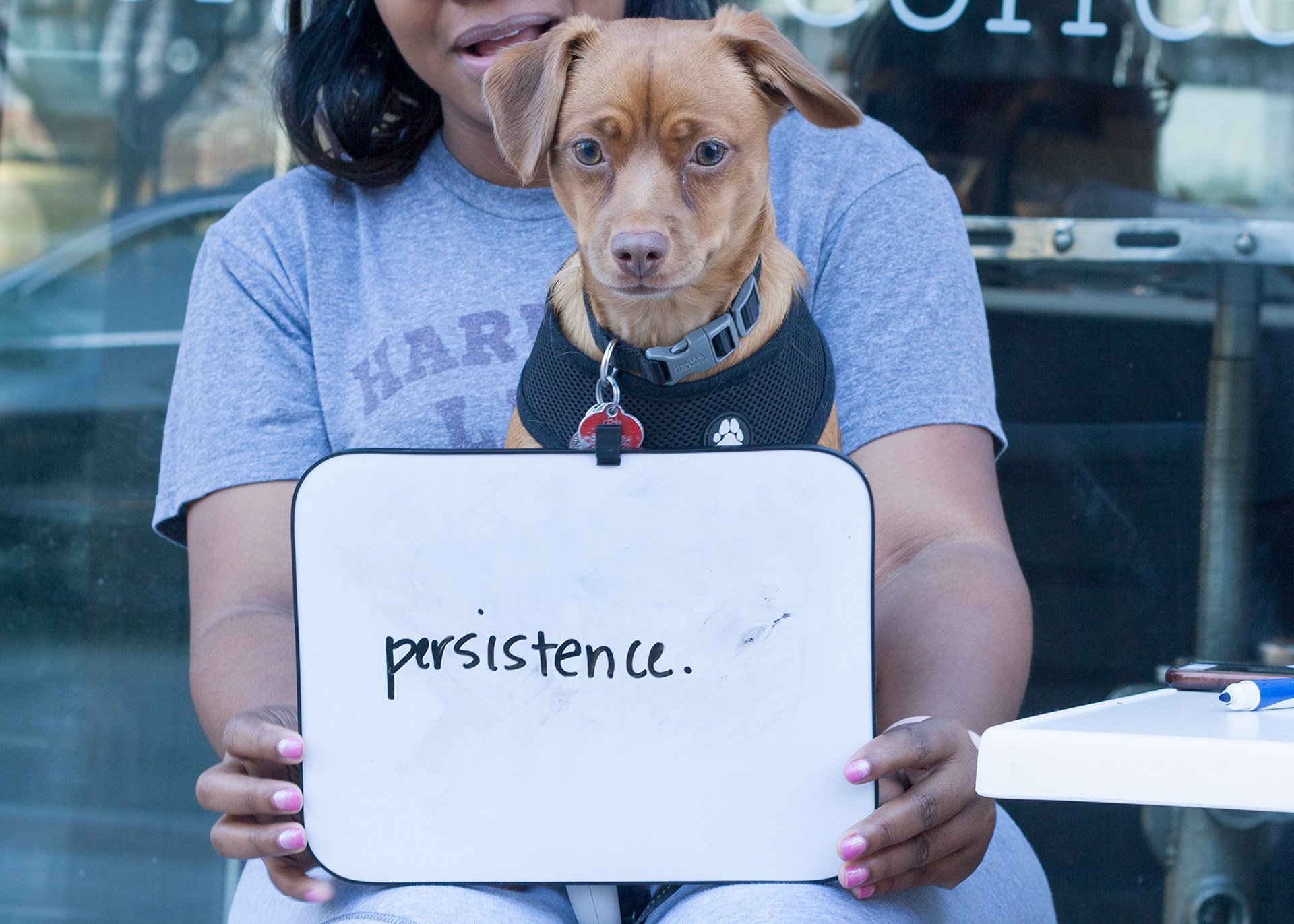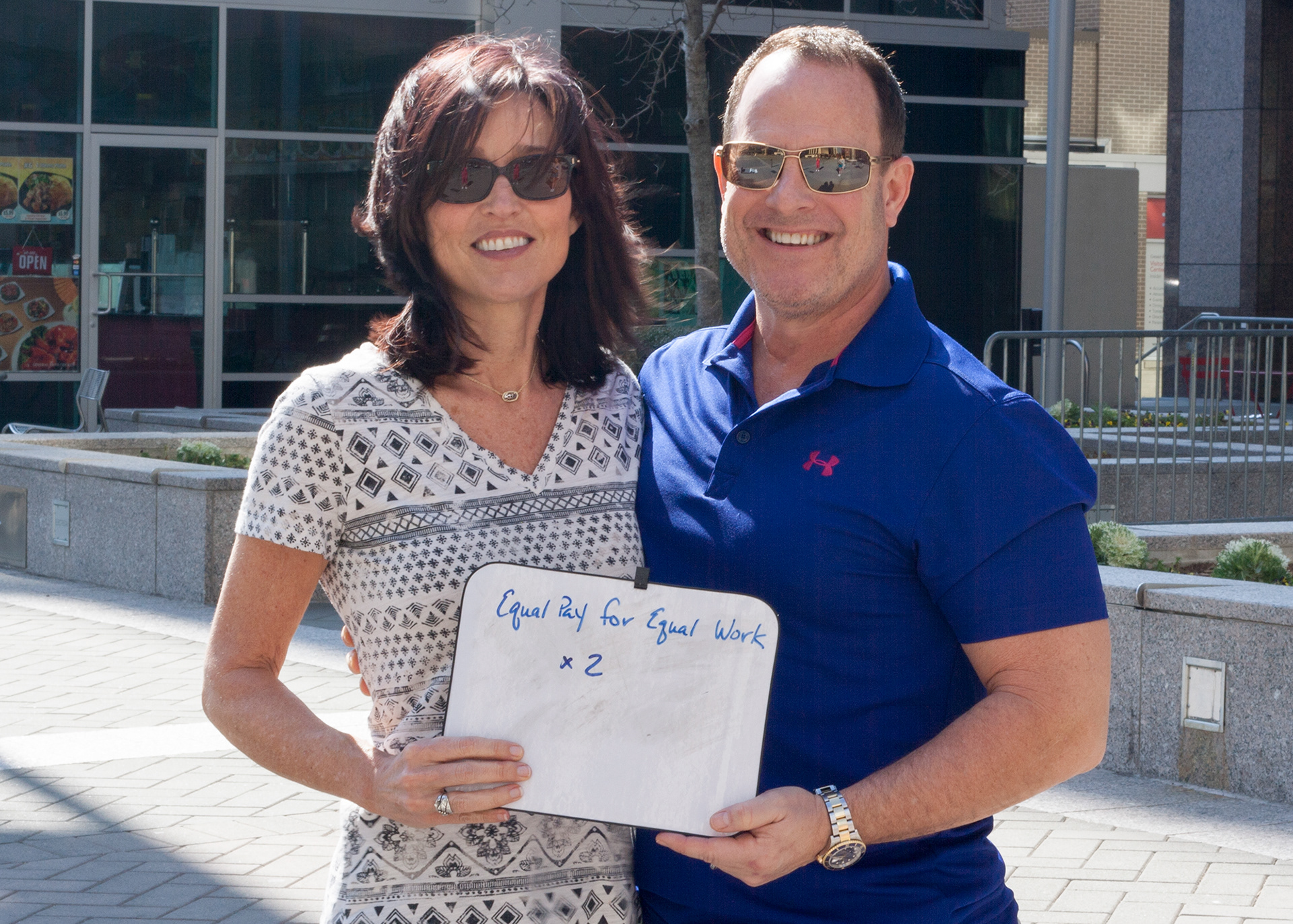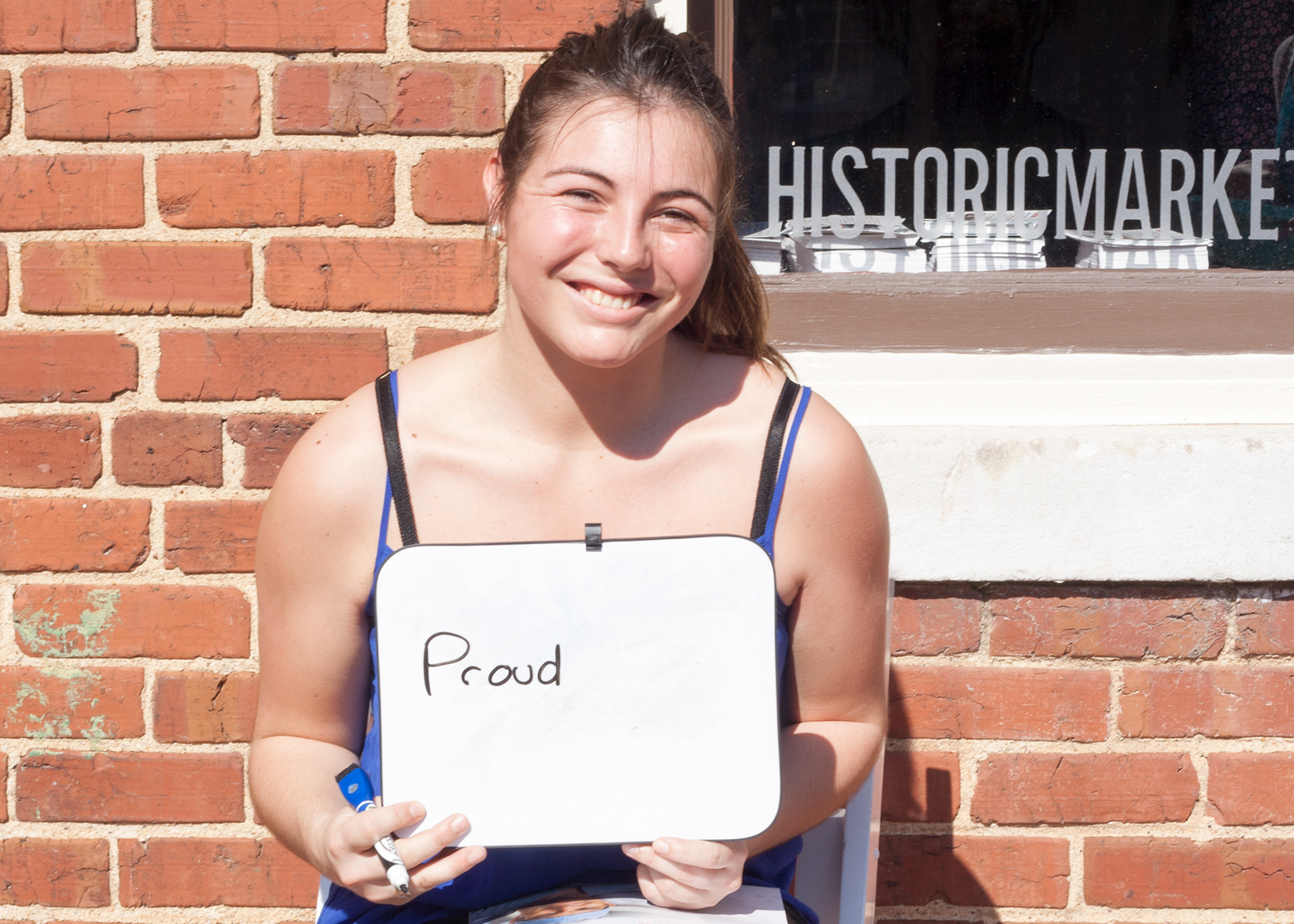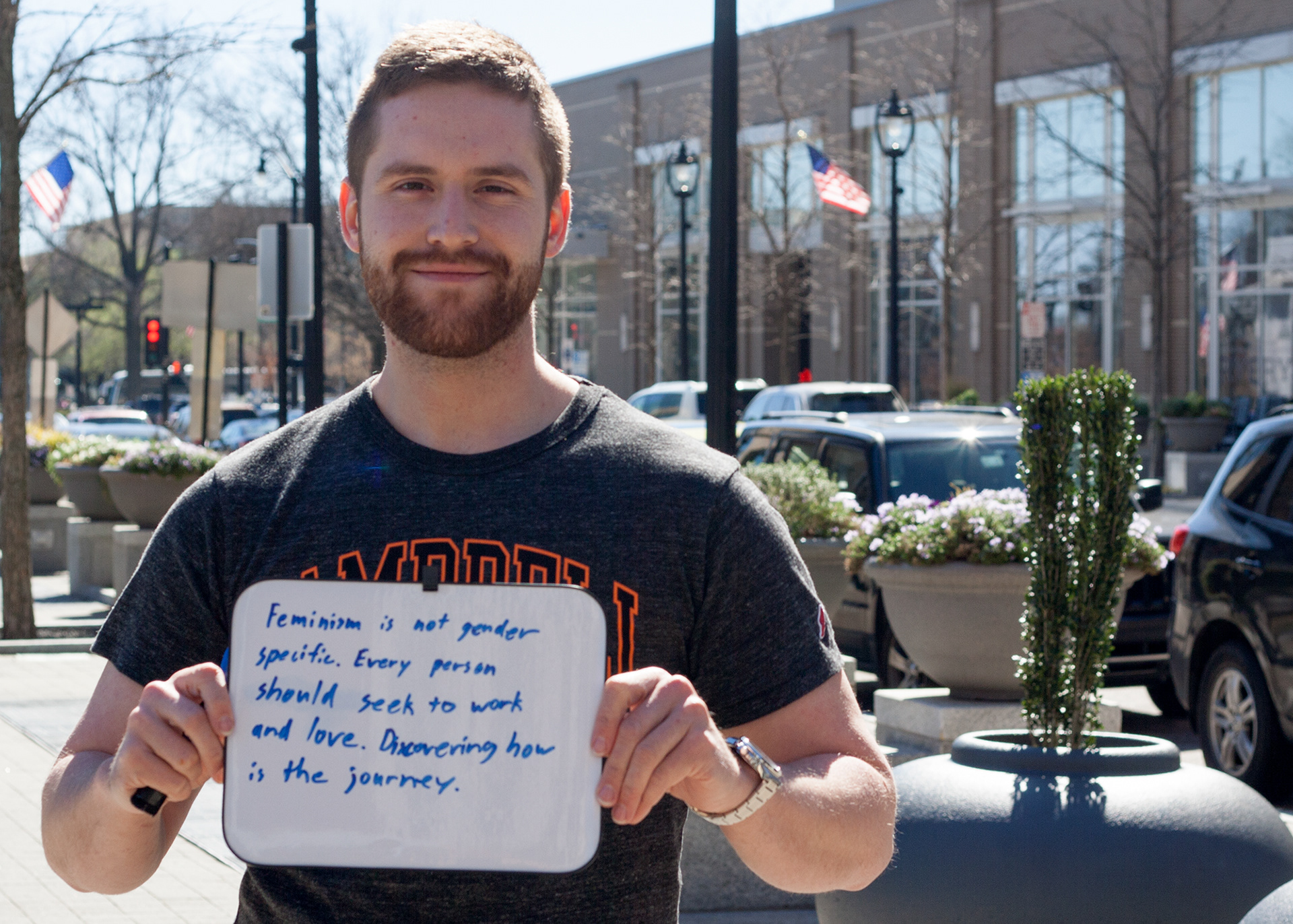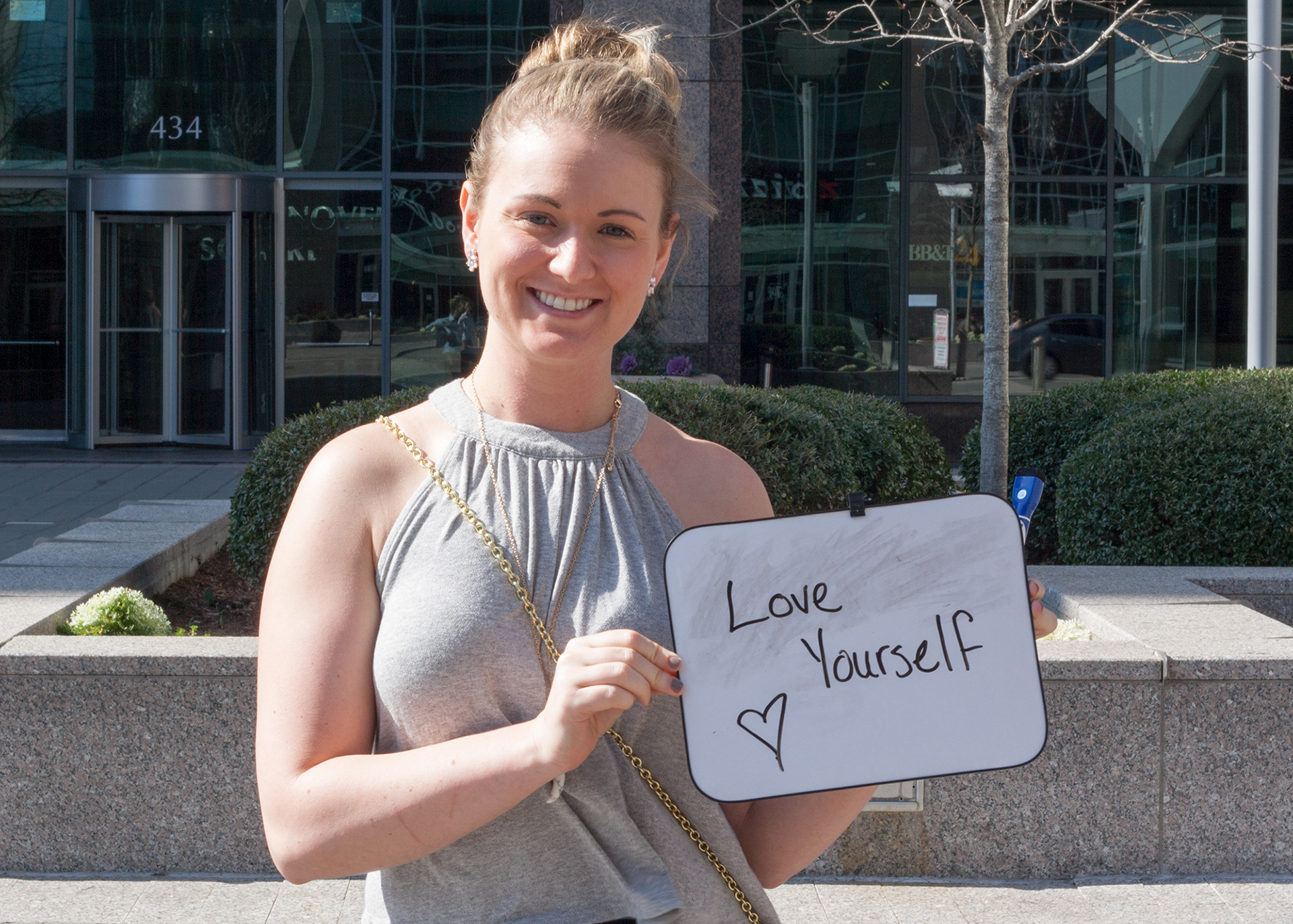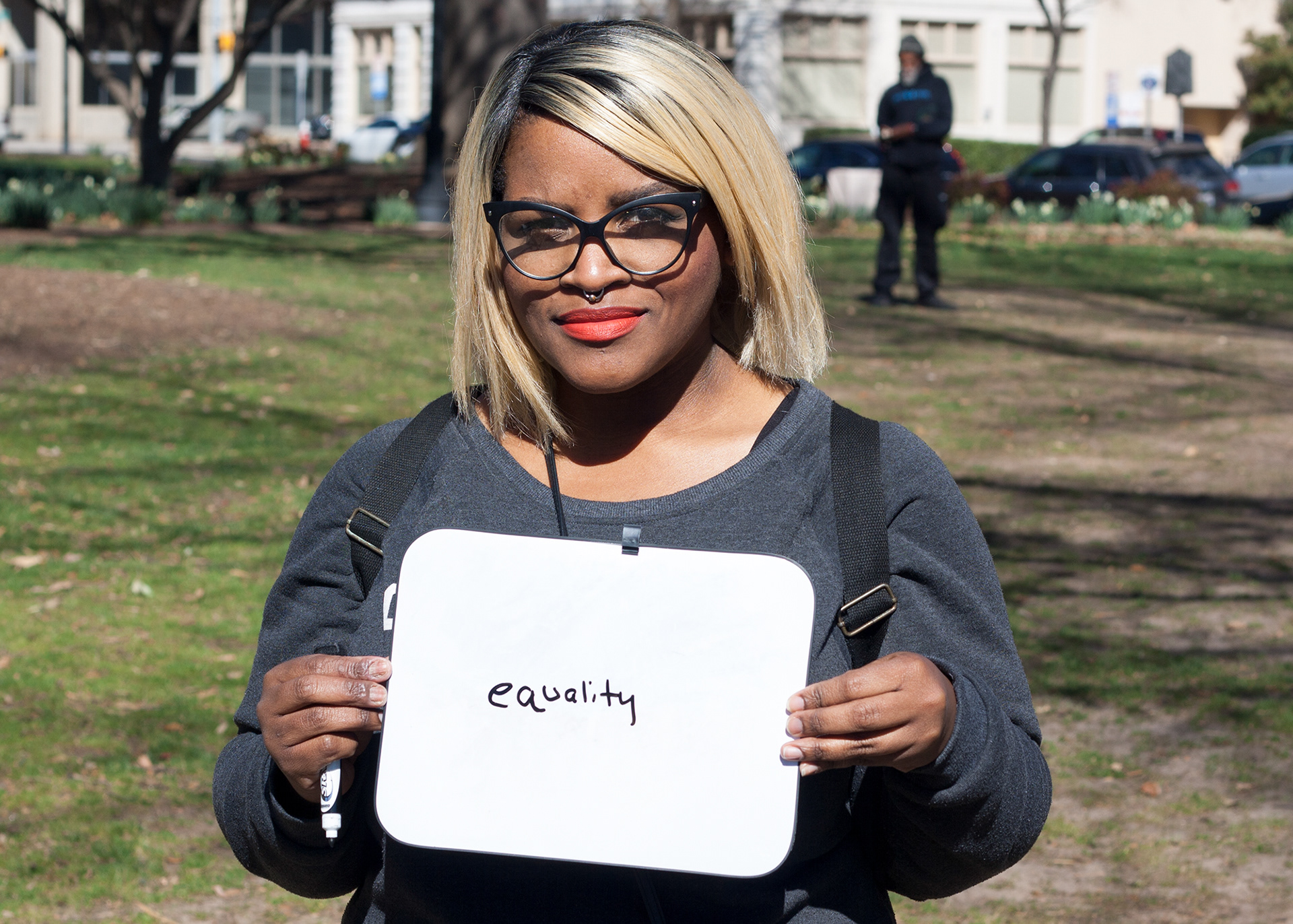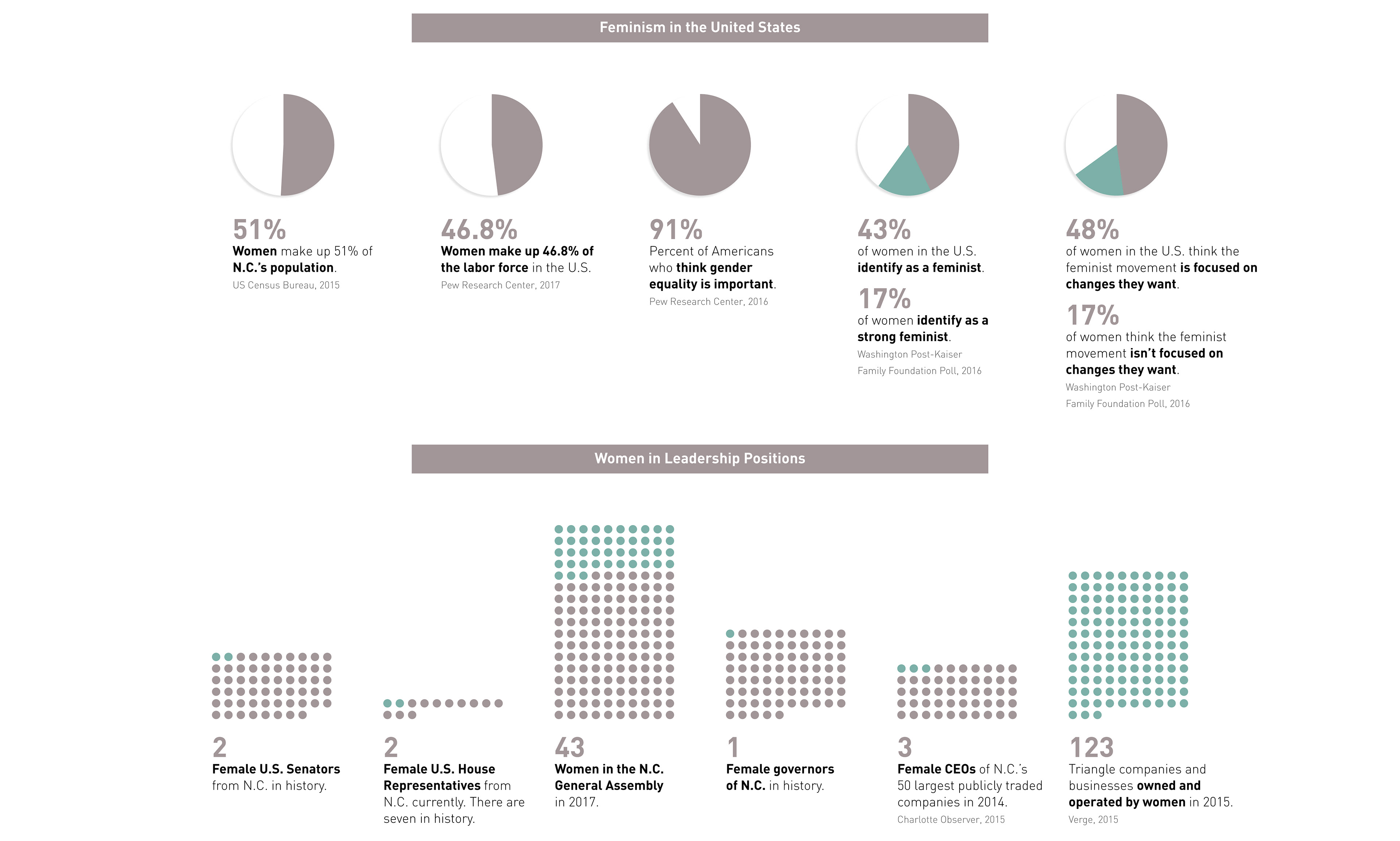 We published Issue II: Feminism during Women's History Month. Rather than posting an online survey, we interviewed people on the street about their personal definitions of feminism. We also talked to women leaders and business owners in Raleigh about what feminism means to them in their own journeys. 
Read more
.
In the infographics for Issue II, I highlighted the vast disparities between men and women in business and government. Despite these differences, 91 percent of Americans believe gender equality is important (Pew Research Center, 2016). The handwritten personal statements in each portrait reveal a slice of that 91 percent.
"We need to step up because some little girl could be dreaming of being an astronaut and she doesn't have the family that has the education or background to empower her and so it's up to society to reach in and support those little girls."
–Tricia Sauls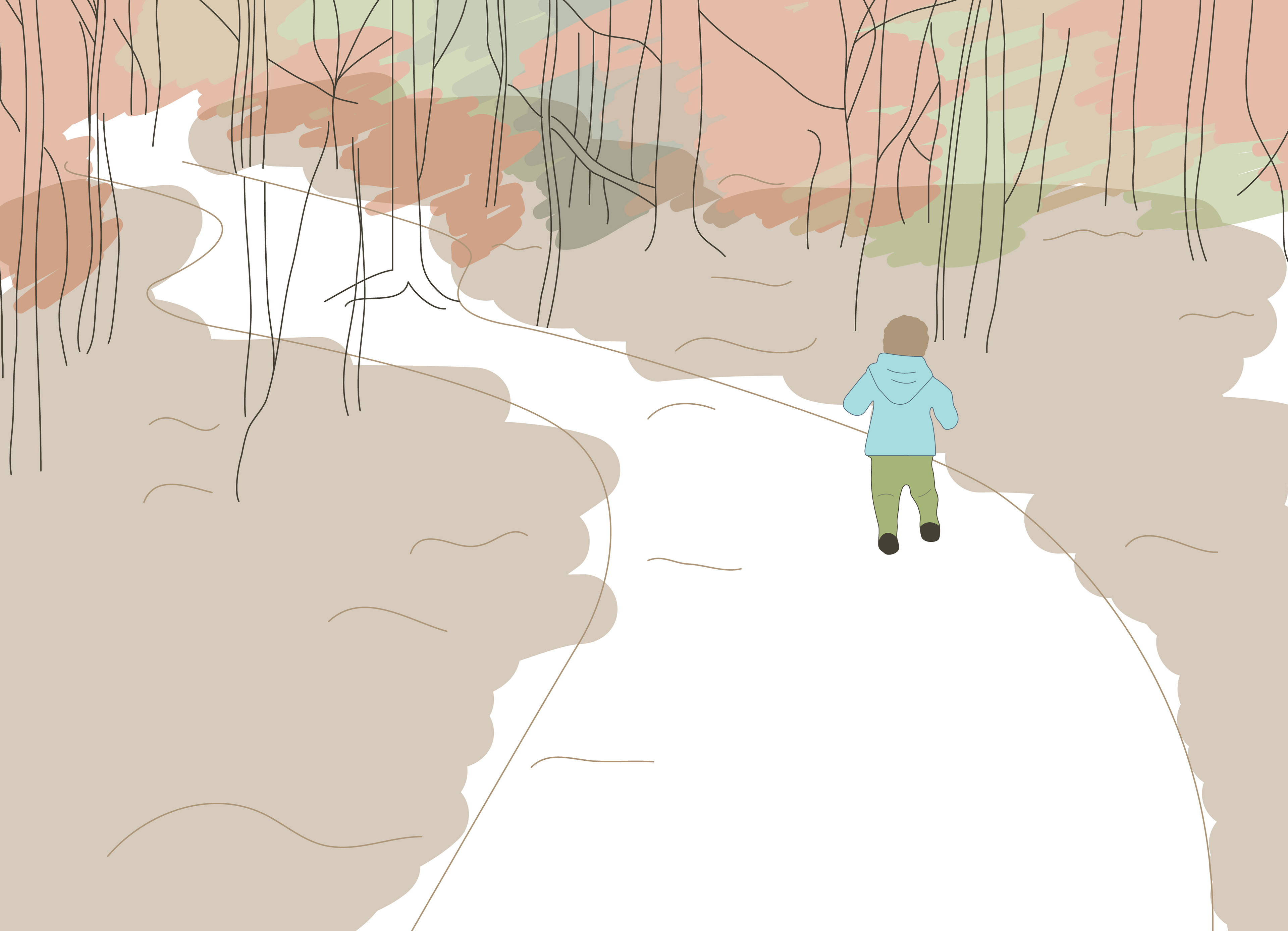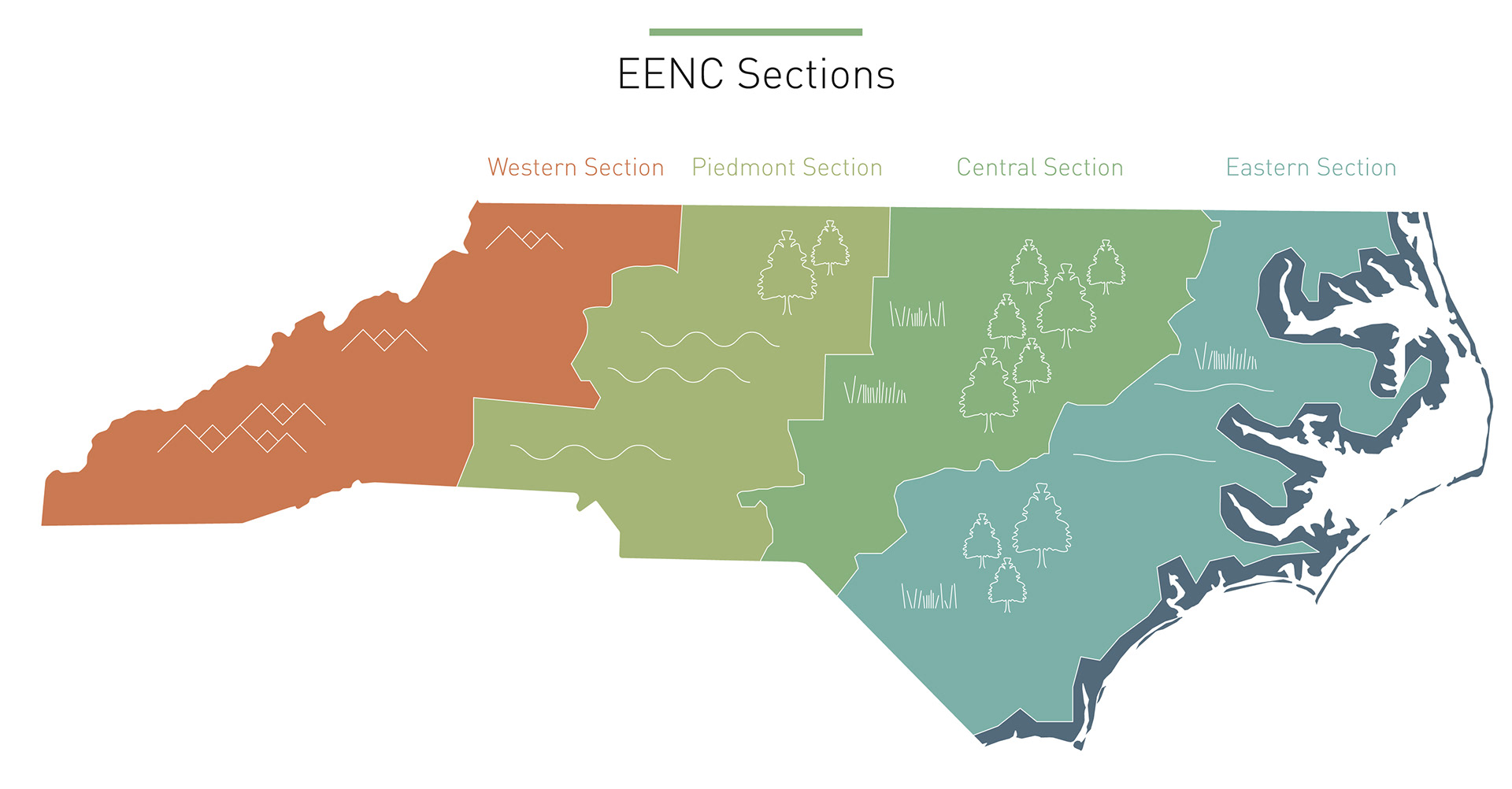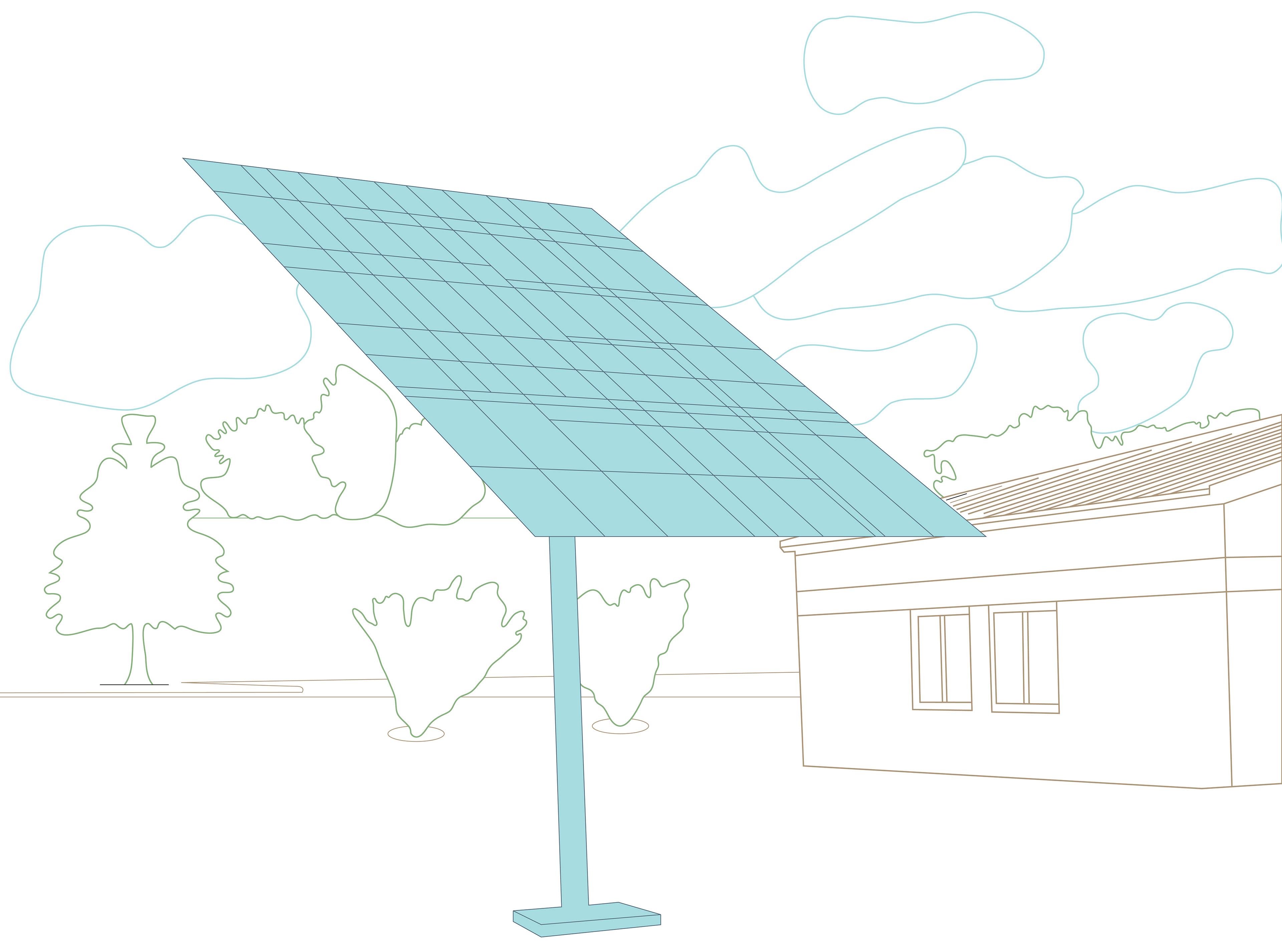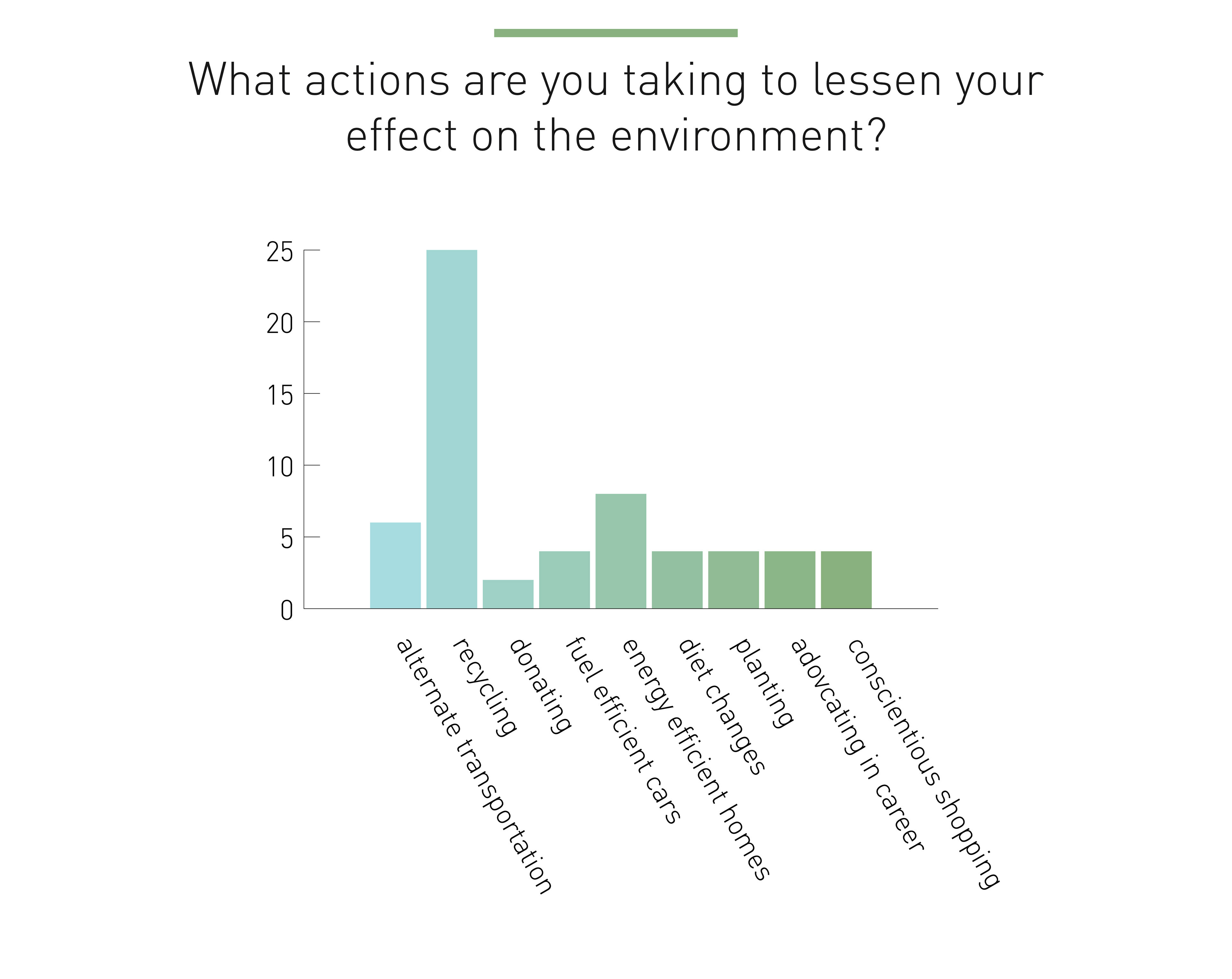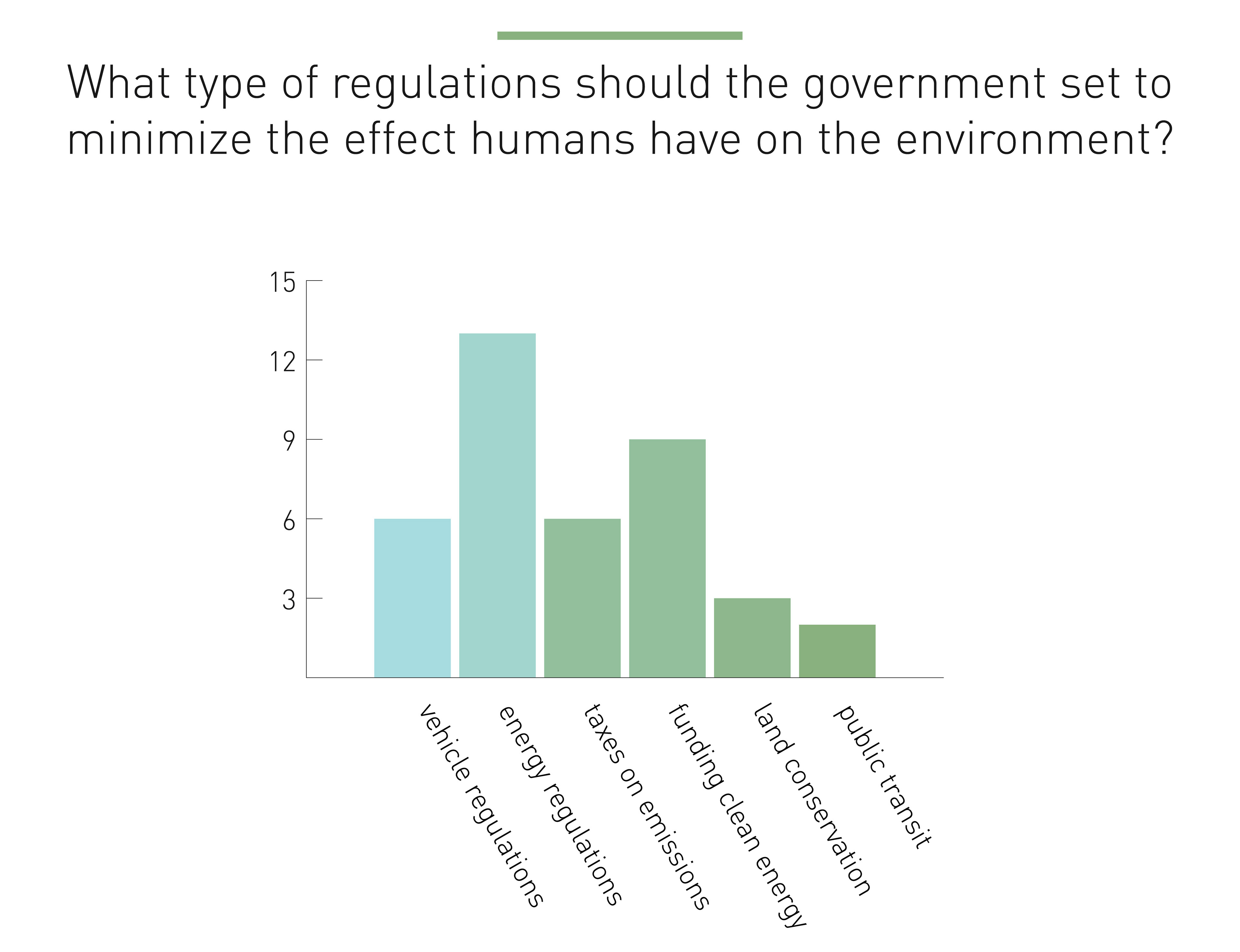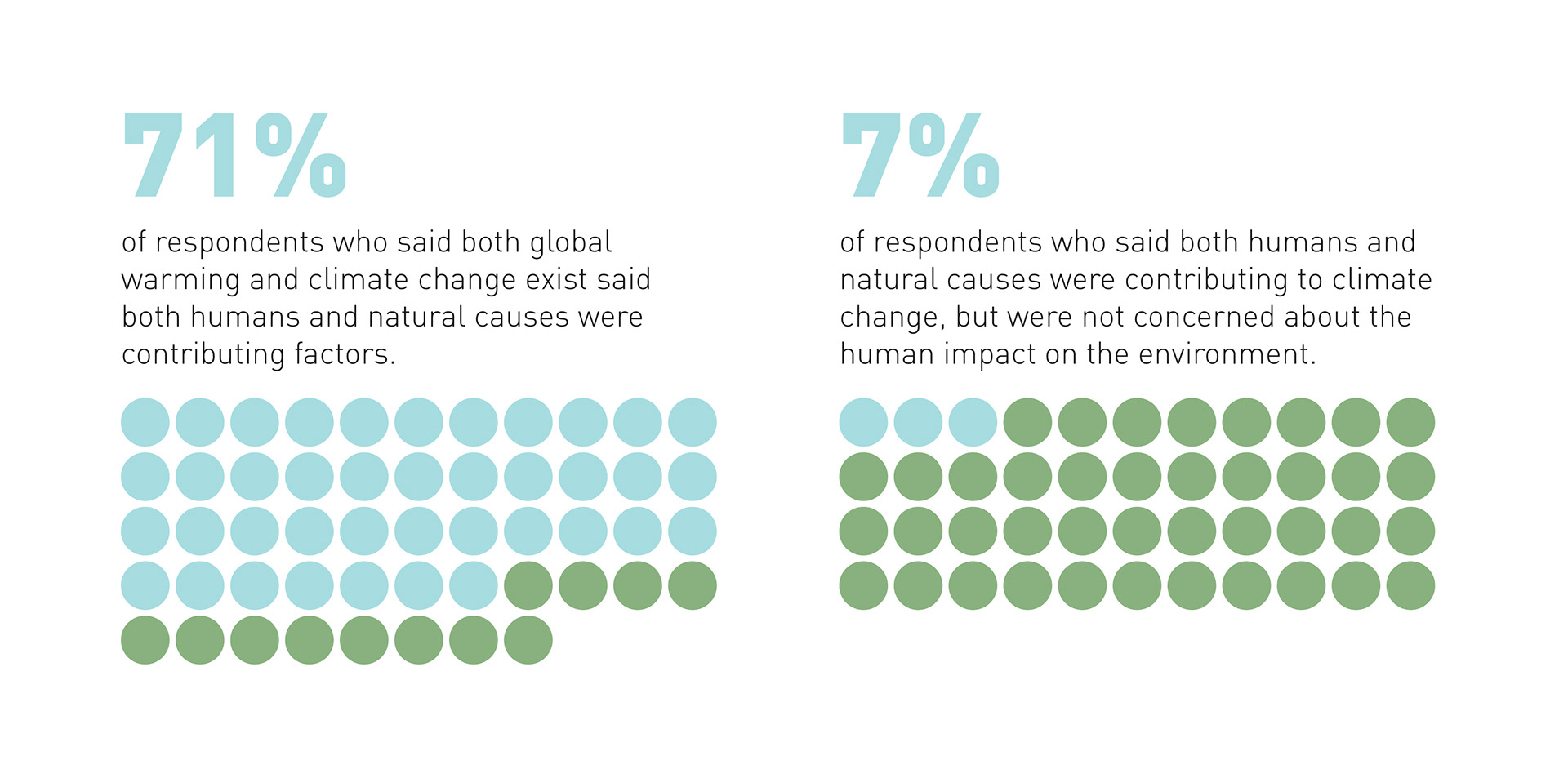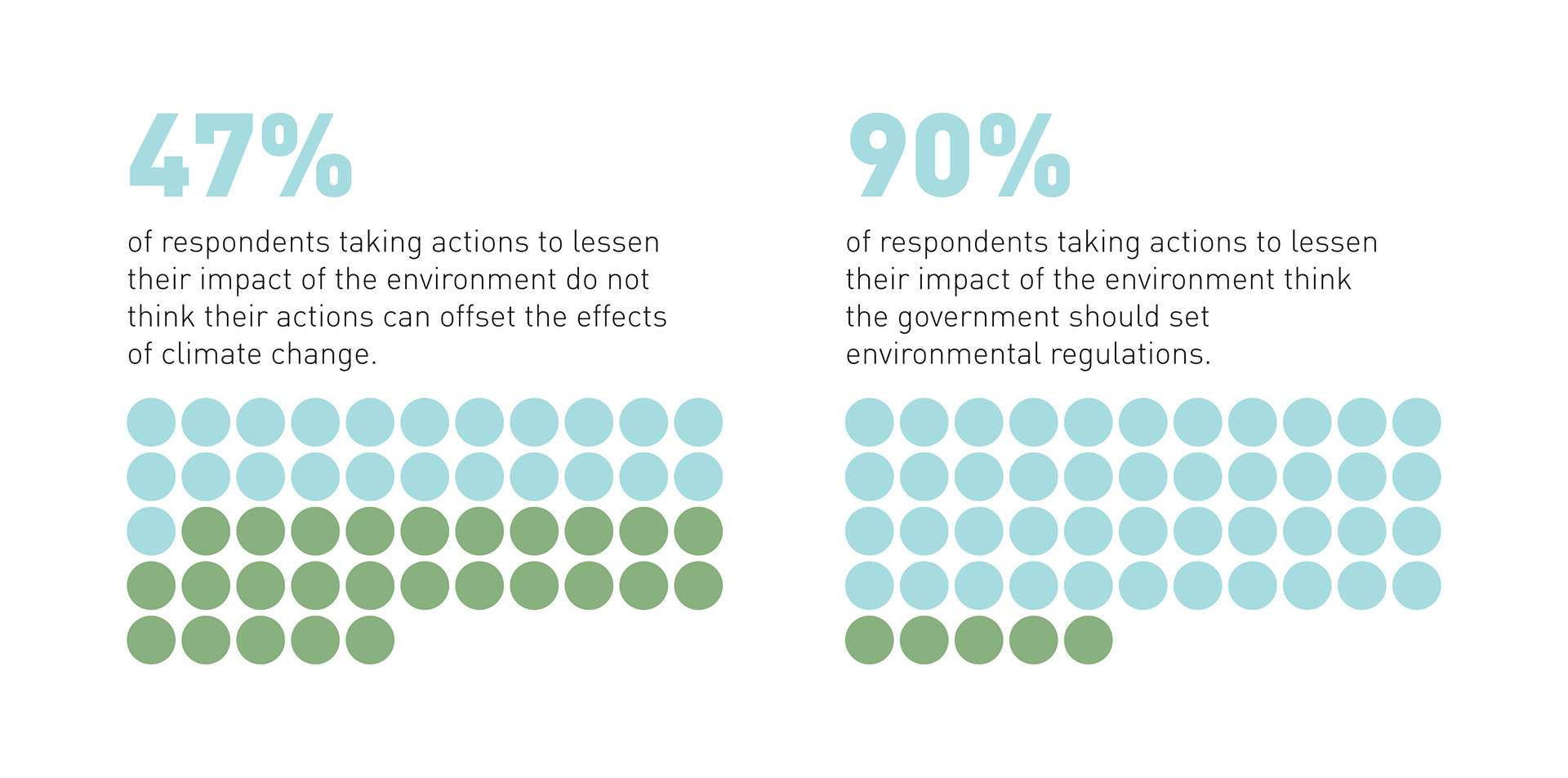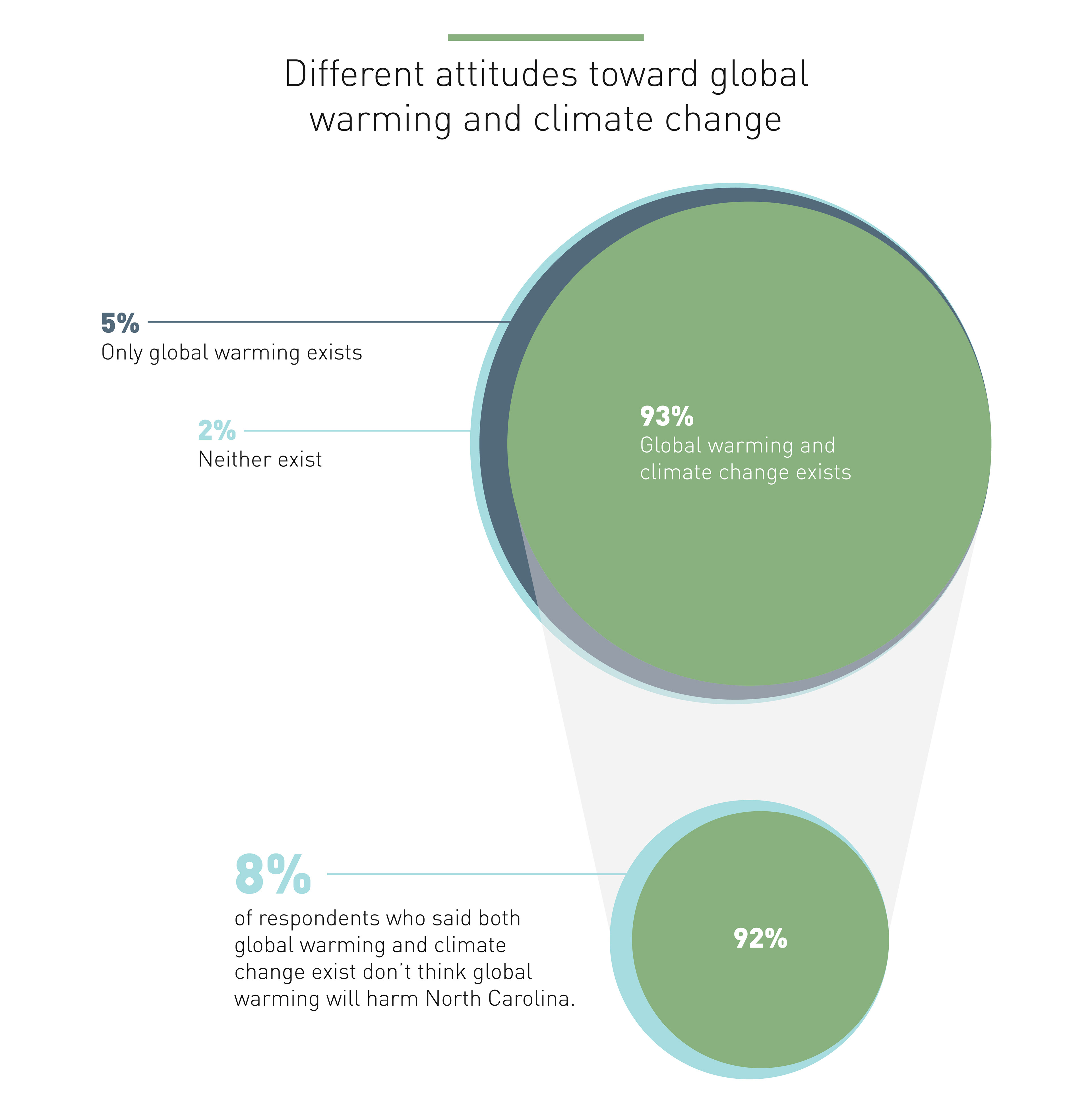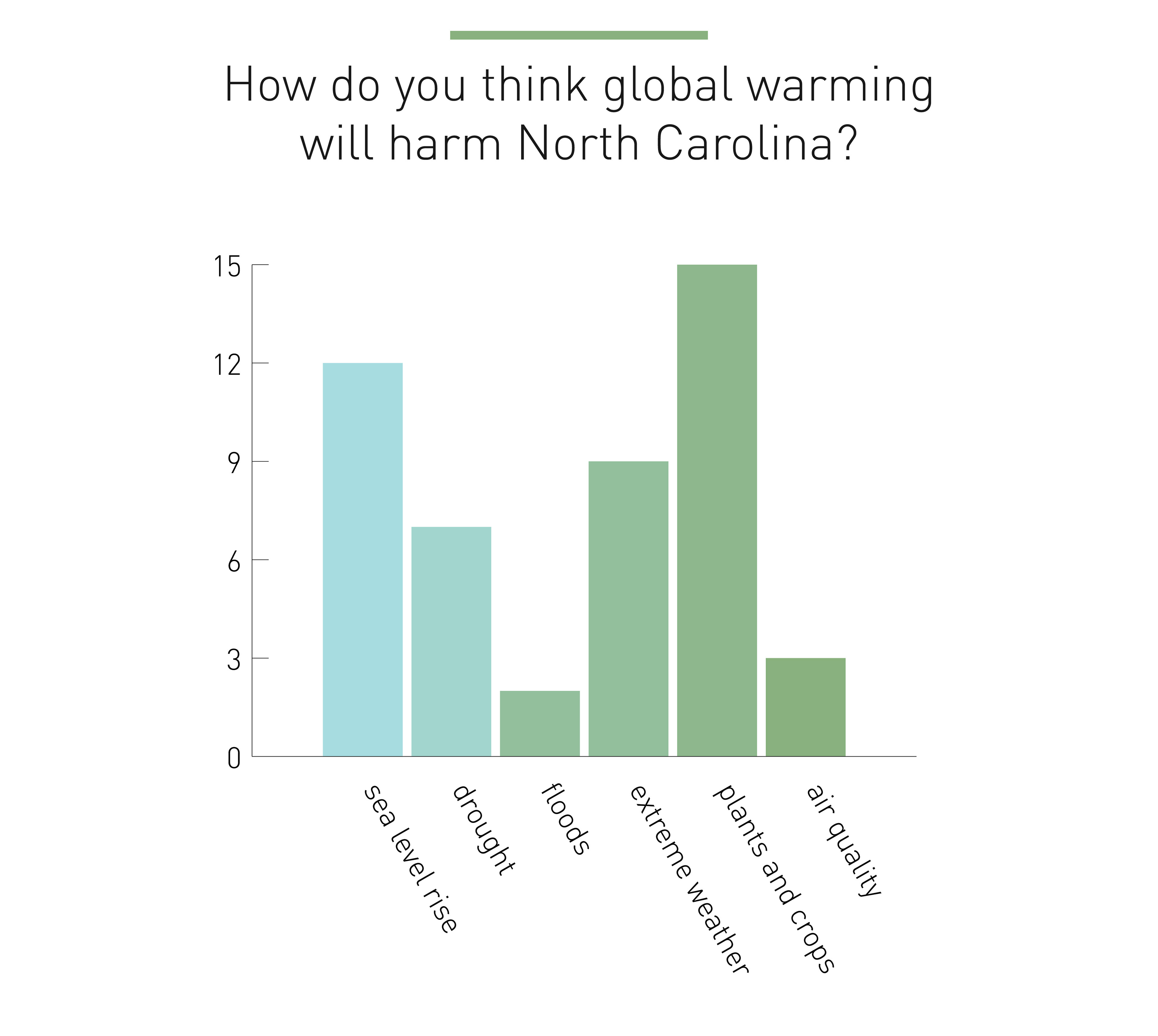 Issue III coincided with World Environment Day. From an online survey, we gathered 50 responses from North Carolinians about the threat of climate change in our state. We also talked to three environmental experts to understand if and how the state's environment is at risk. 
Read more
.
I chose to highlight contrasting survey responses in the infographics, using blue and green to reference the environment. For example, 47 percent of respondents said they are taking actions to lessen their impact on the environment but do not think their actions can offset the effects of climate change. To make up for a lack of portraits, I drew three illustrations depicting North Carolina's land to support the content.
"Nobody is going to go on vacation to hang out at a parking lot. They want to see beautiful mountain views and beaches and forests."
–Jonathan Marchal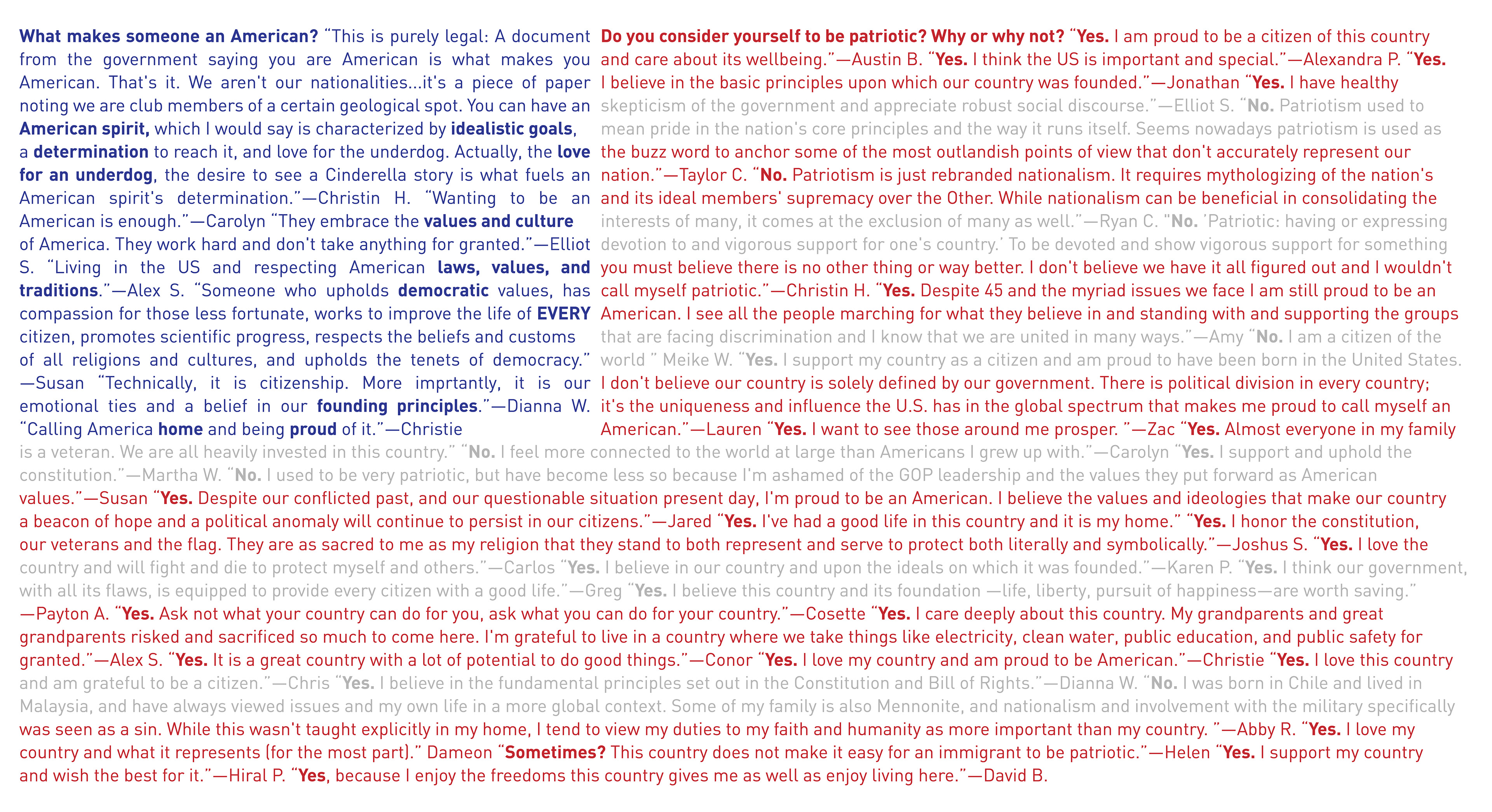 Nearing Independence Day, we surveyed 36 people and interviewed six about what it means to be an American and a North Carolinian. We found that many people have varying definitions of patriotism and that for some, that patriotism can waver. 
Read more
.
I created a flag using responses for "What makes someone an American?" and "Do you consider yourself to be patriotic?" to symbolize the diversity of backgrounds and values that make up our country. Photos of landmarks around North Carolina State Capitol reinforce combinations of national and state pride amongst respondents.
"Patriotism is more than just soldiers and politicians. A lot of people have mixed that up recently. It's more than just a symbol of a flag. It's an individual thing — what you can do to help improve it. As soon as you give up, I feel like you're no longer patriotic. Everyone has their problems, even individually so imagine what a group of people are. Just a group of problems."
–David Baeza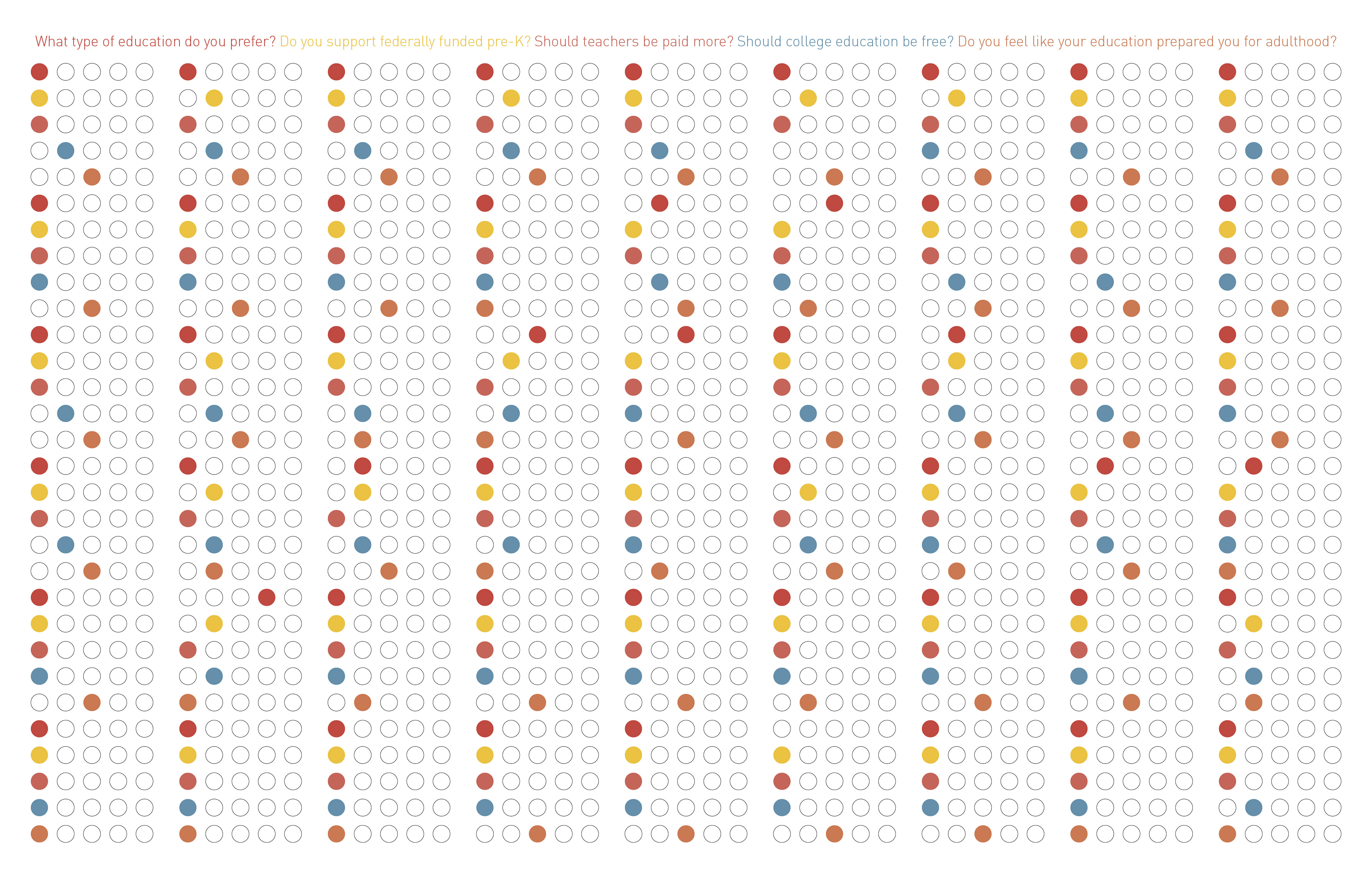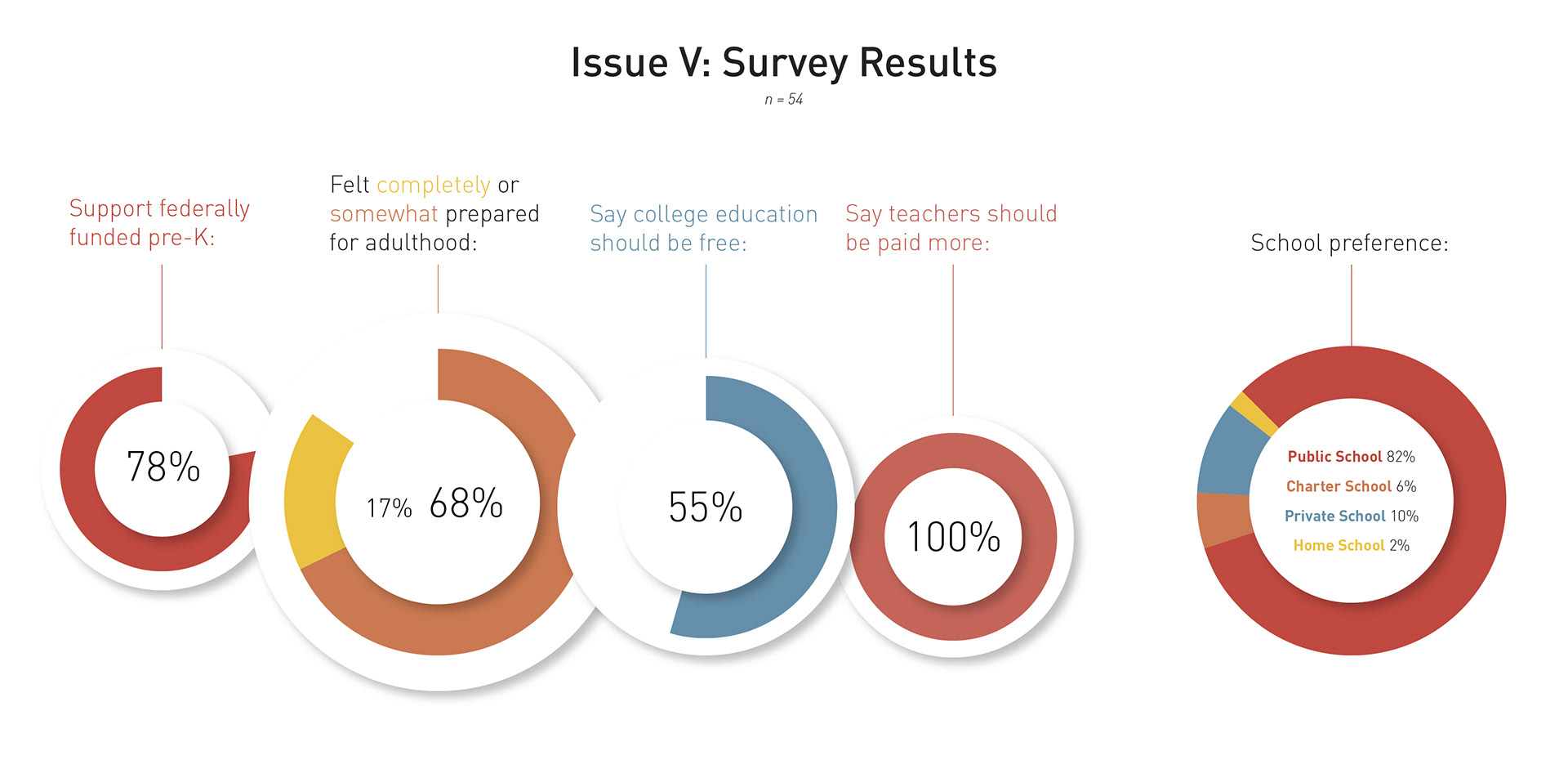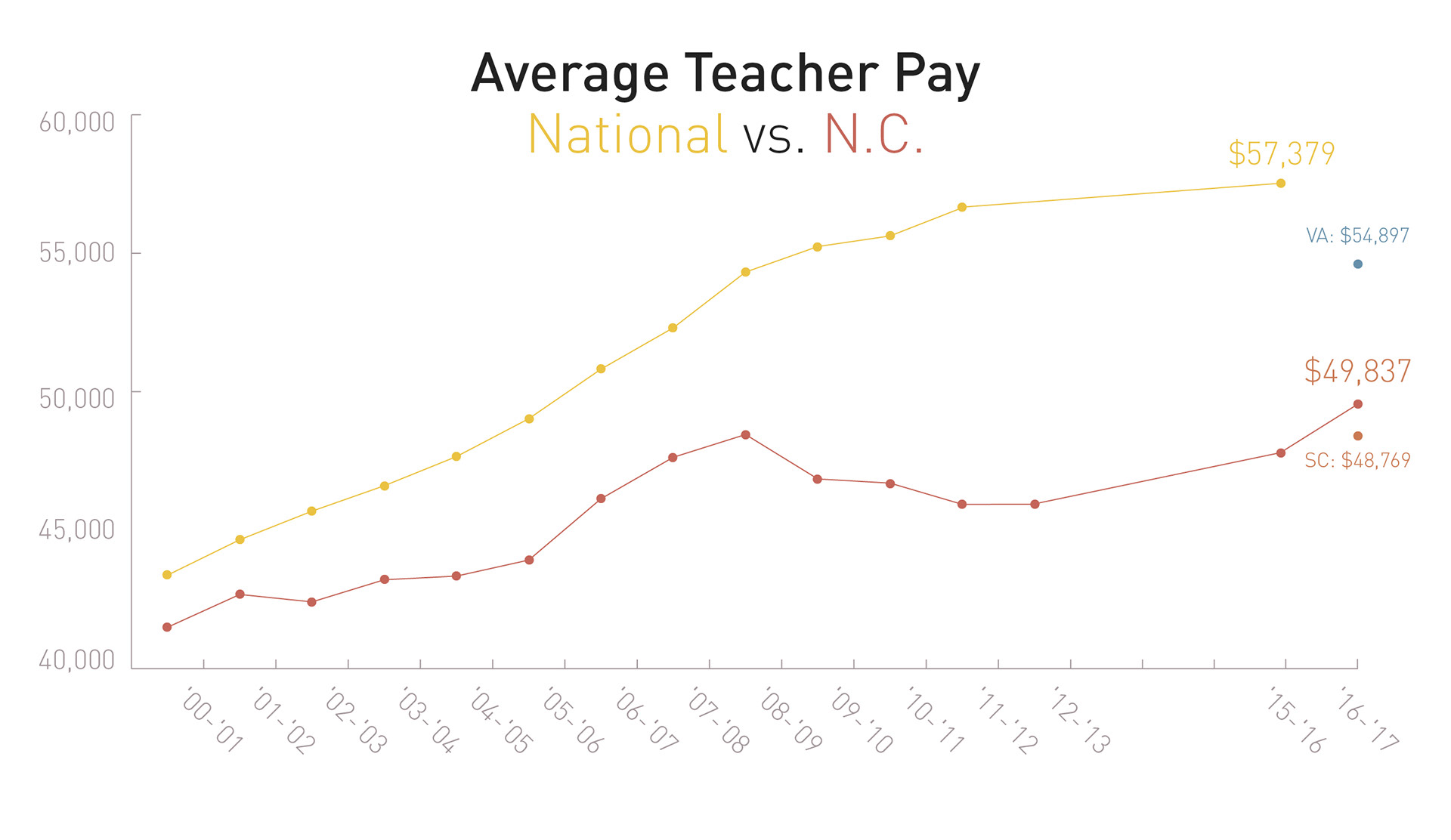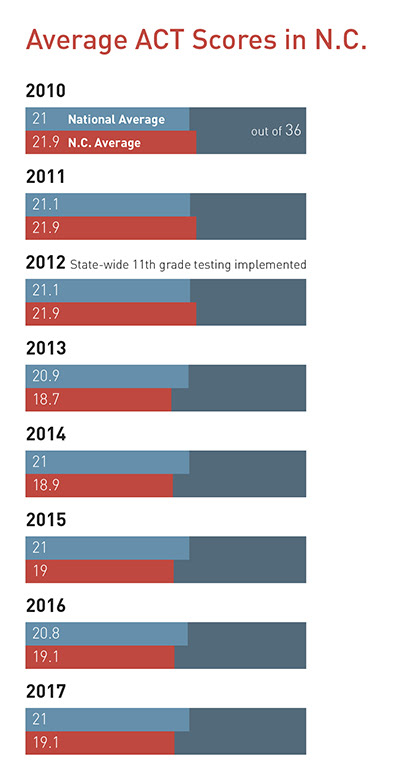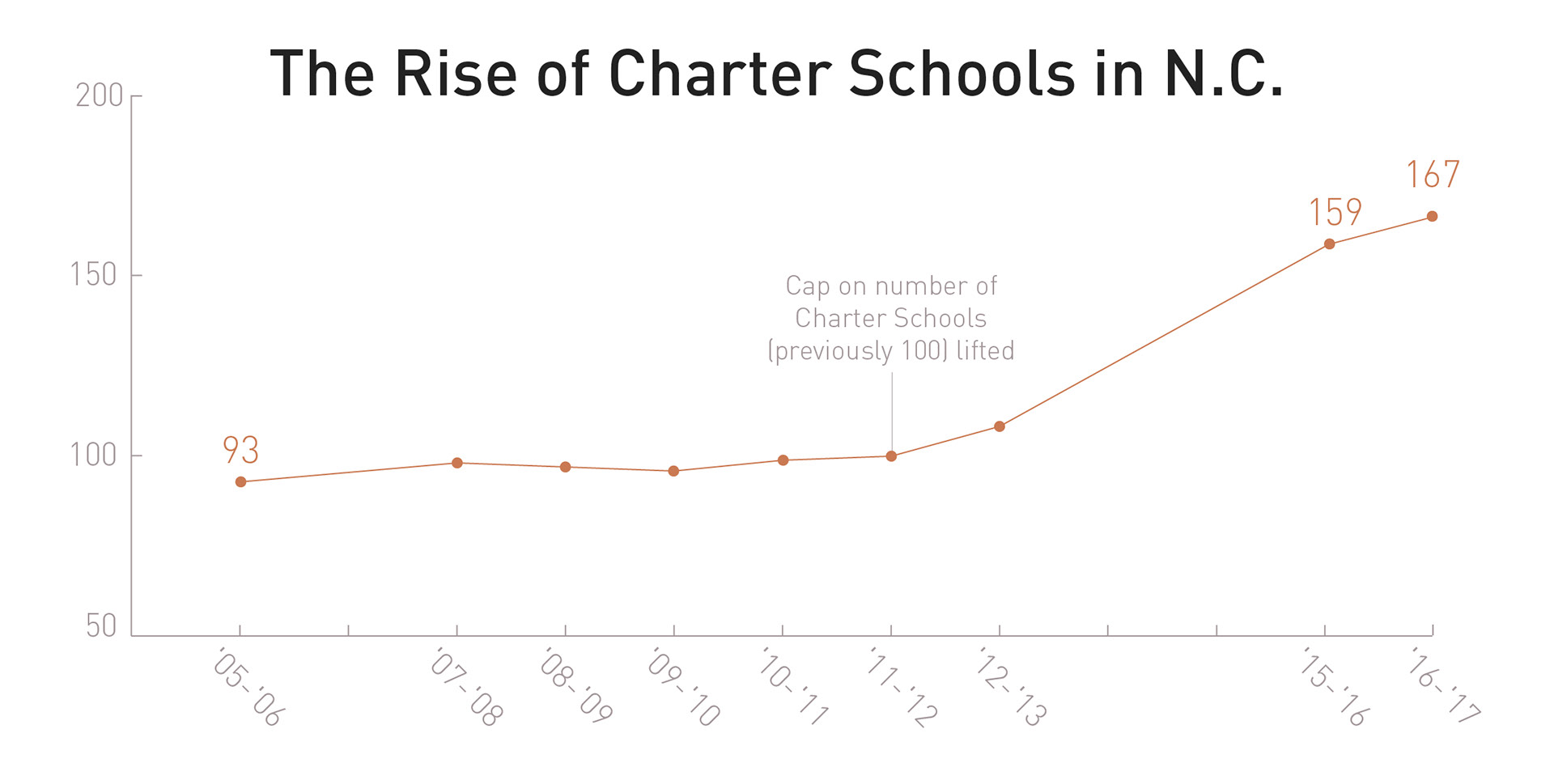 At the start of the 2017 school year, we spoke to researchers, teachers, coaches and leaders in education to learn about the challenges North Carolina faces. Much of our conversations focused on the nationwide public vs. private school debate. 
Read more
.
Because the survey included no short answer questions, I visualized the 54 responses as a multiple choice test. Each answer is color coded to one of five survey questions and the filled bubble represents their response to that question. These results are broken down further in the pie charts below. While previous Issues grouped all infographics at the start of the story, Issue V's graphics are placed throughout the article where they are most relevant.
"Personally I think there's a type of school for every child. I'm a huge proponent of public schools. I went to public schools. My children are in eighth grade and 11th grade in public school made their way. I prepare public school teachers, so I believe strongly in the value and the purpose of public schools, but I understand that that's not the right situation for some people."
–Michael Maher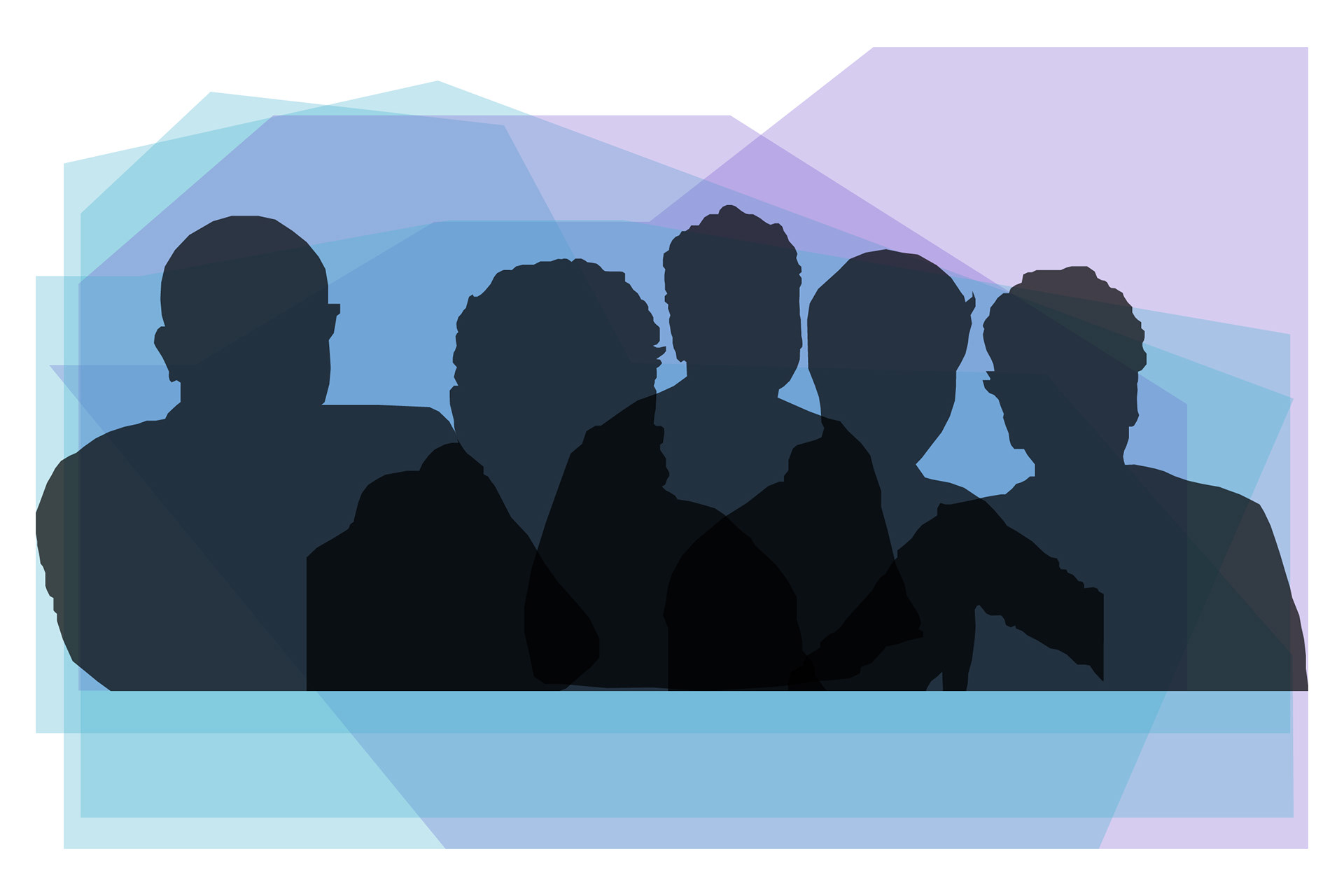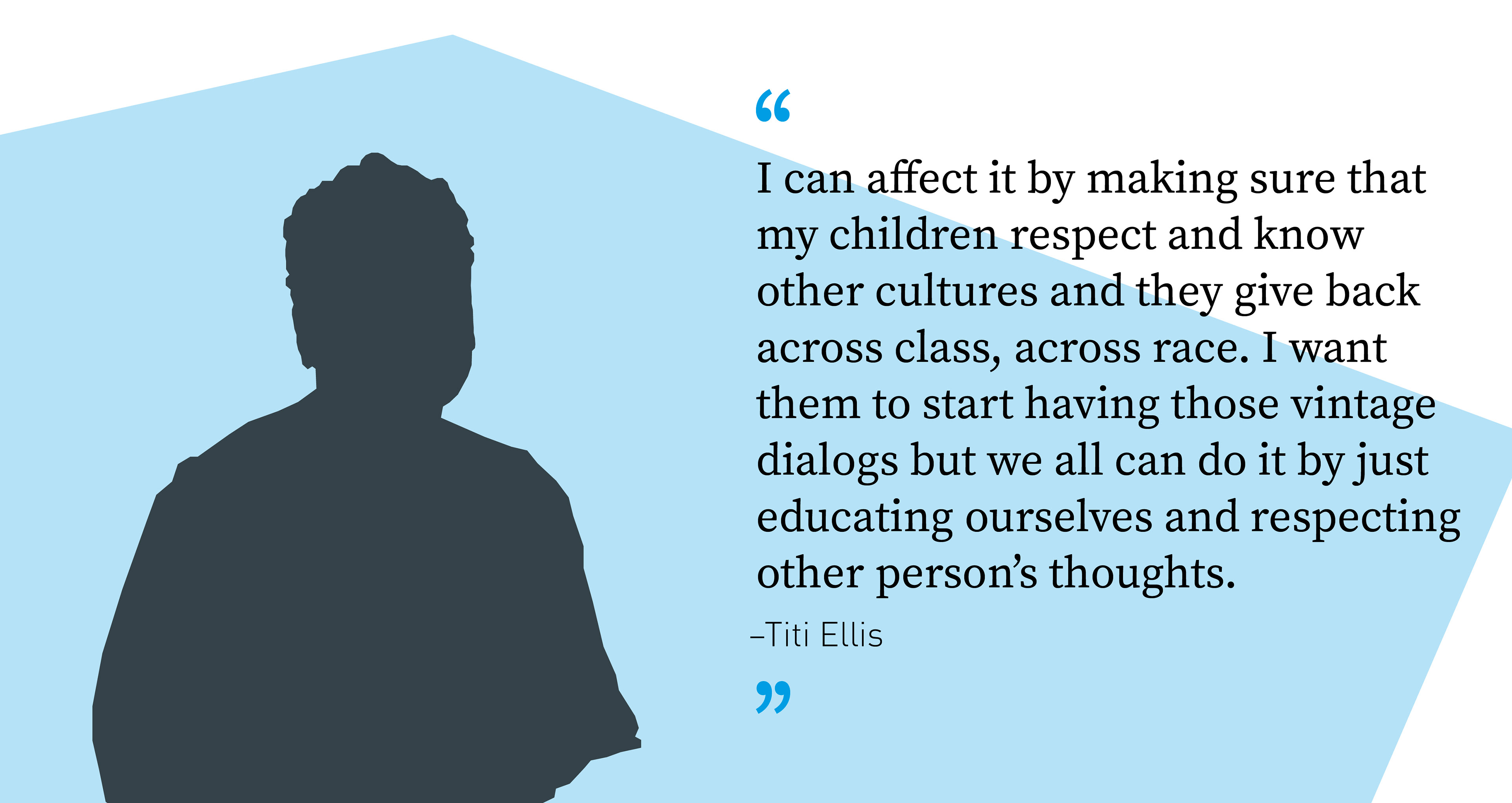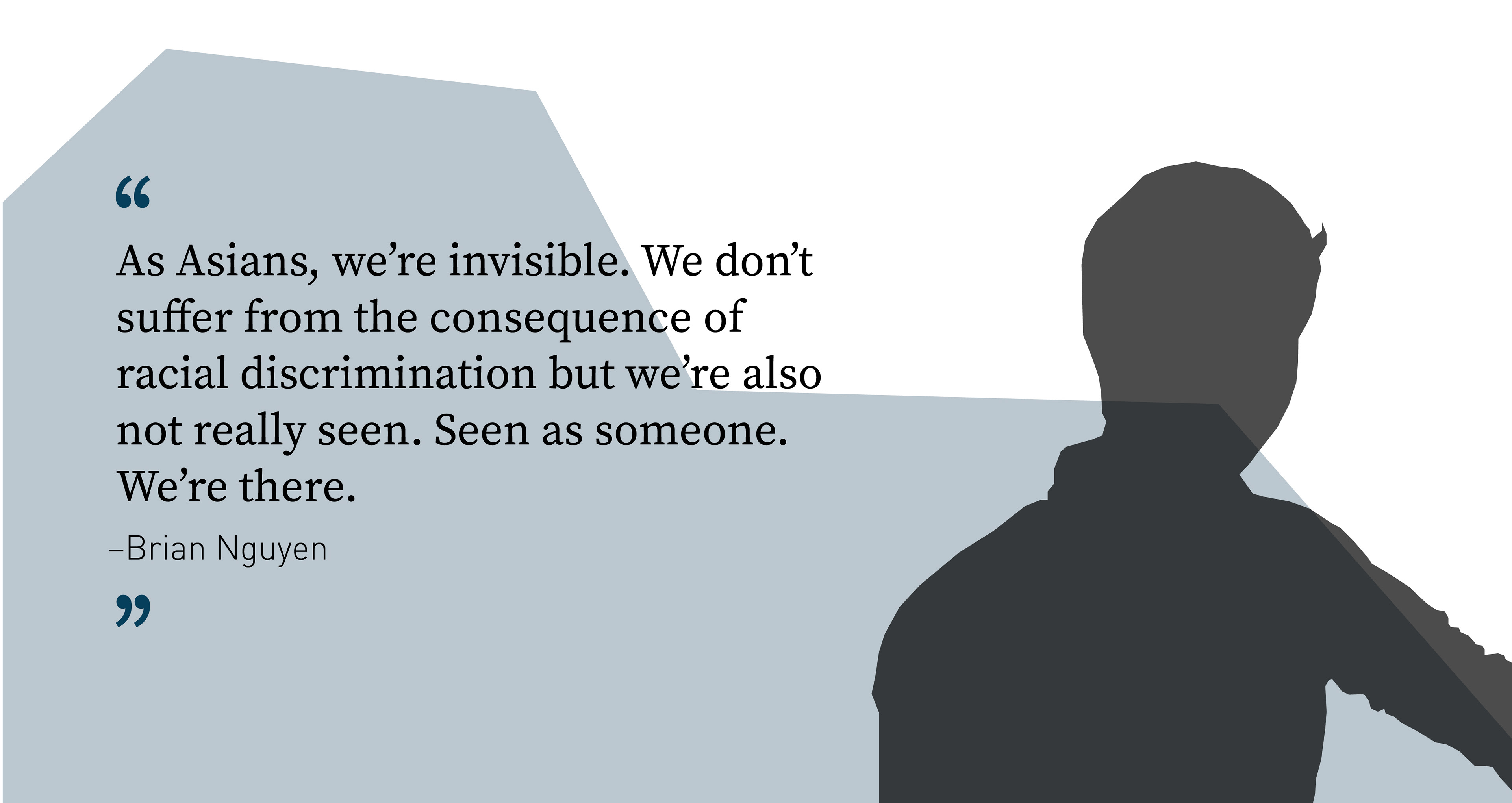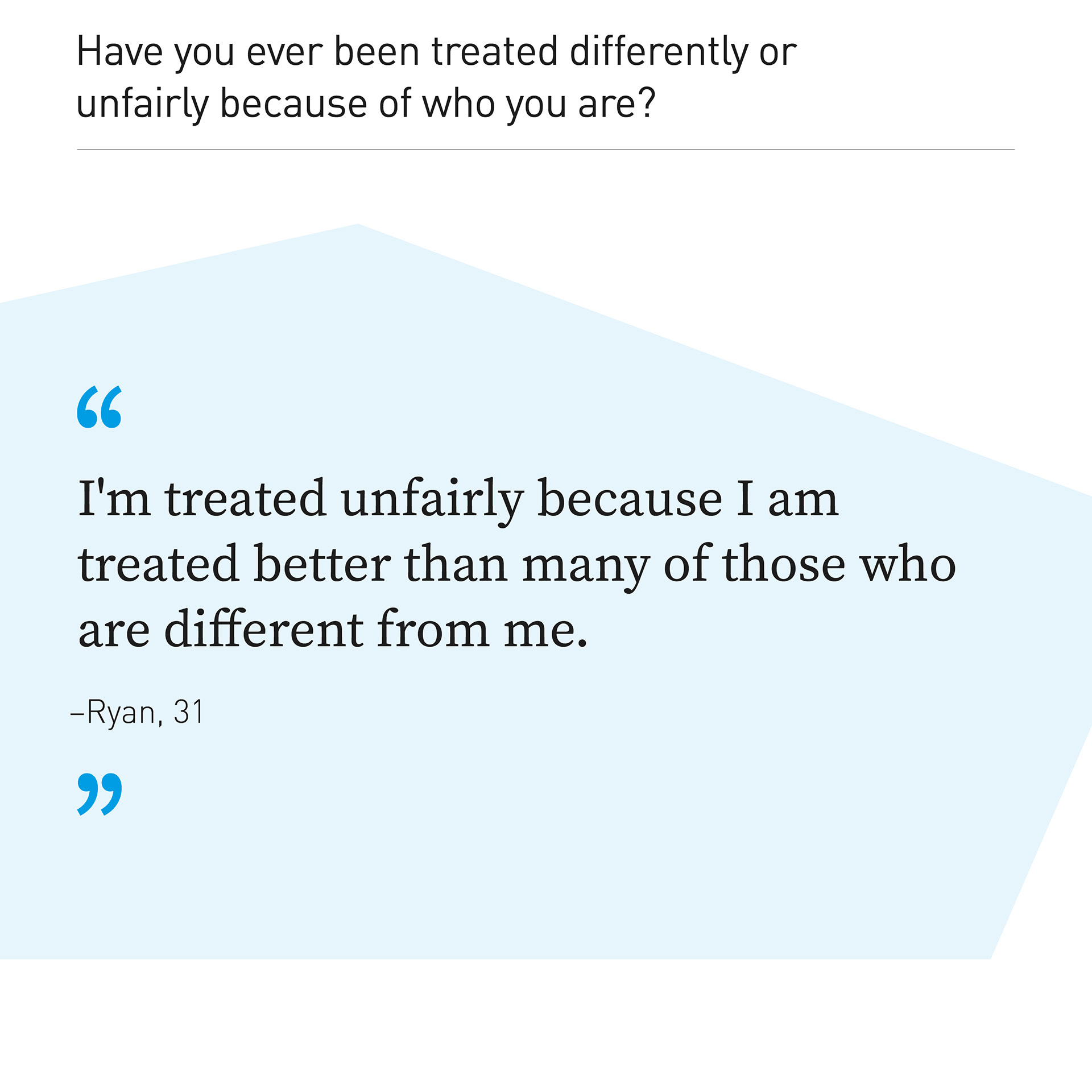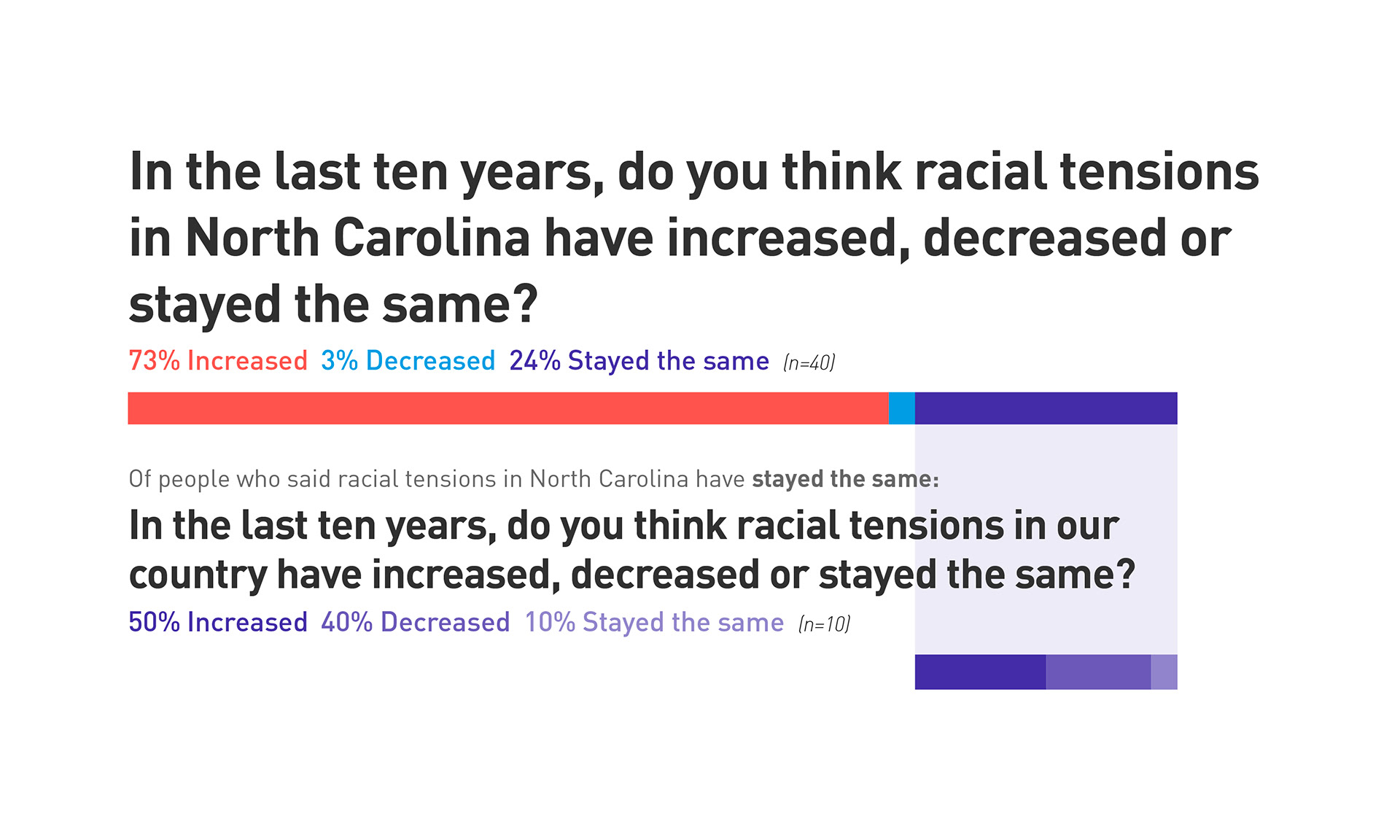 With the travel ban, the white supremacist rally in Charlottesville, police shootings against black males and the unknown future of DACA, we felt it was important to cover race relations in our community. We surveyed 42 North Carolinians and spoke to eight respondents about their thoughts and experiences with racism in our state and the country as a whole.
Read more
.
I wanted the graphic style for this Issue to represent the "gray" areas within this topic. Not every racial discussion is about black and white or one side versus the other. I used overlapping colors and shapes to show the shifting shapes and ideas in these conversations. I also chose to highlight survey quotes more than previous Issues to ensure these voices were equally heard.
"I tried my best, from a visual standpoint, to bridge that buffer between what we know about someone who is homeless or crazy or on drugs — I try not to meet those stereotypes visually. Sometimes I can't do that because I have melanin in my skin. He gave me this immediate look of disdain and disgust."
–Kaliq Ray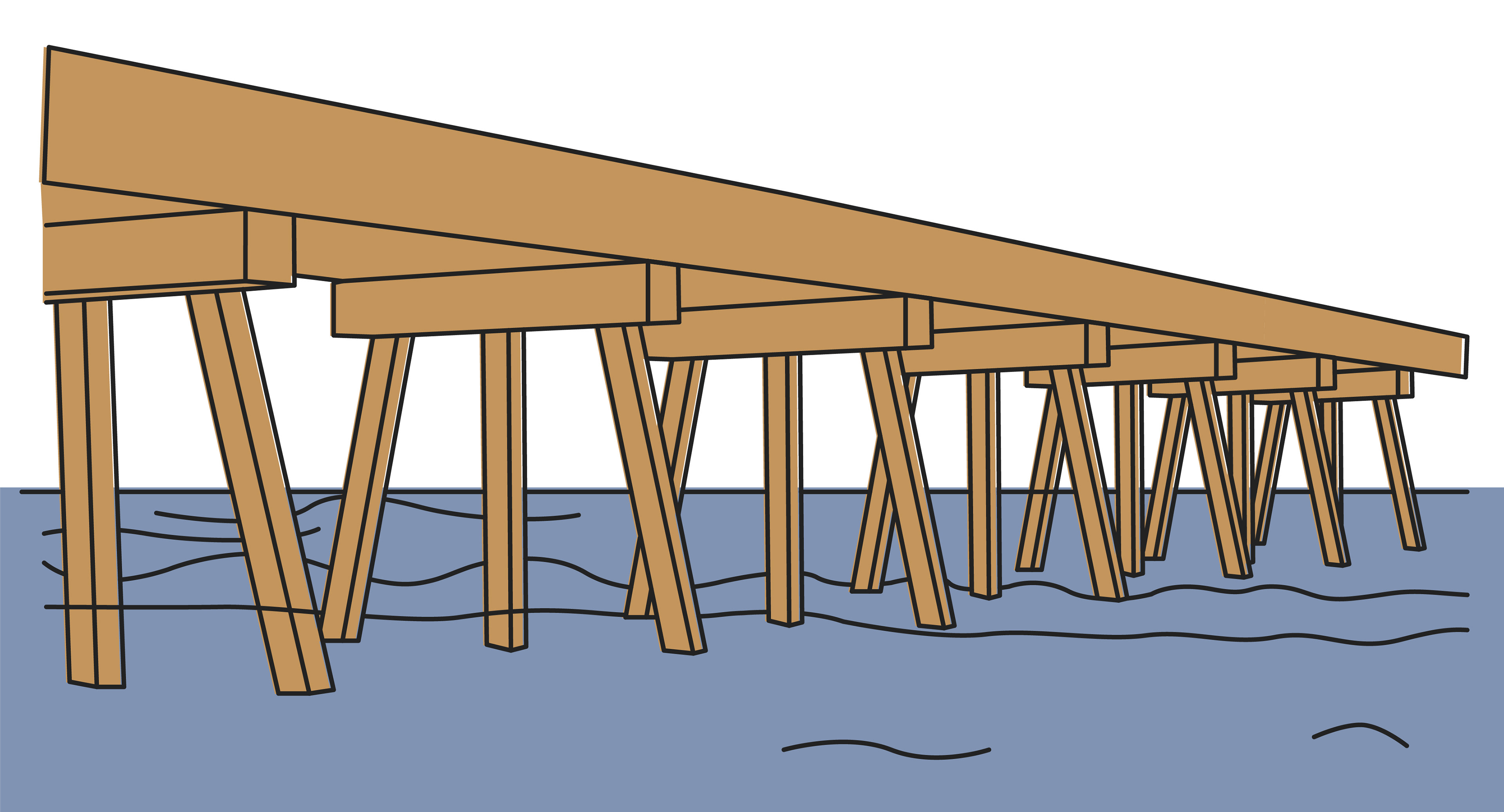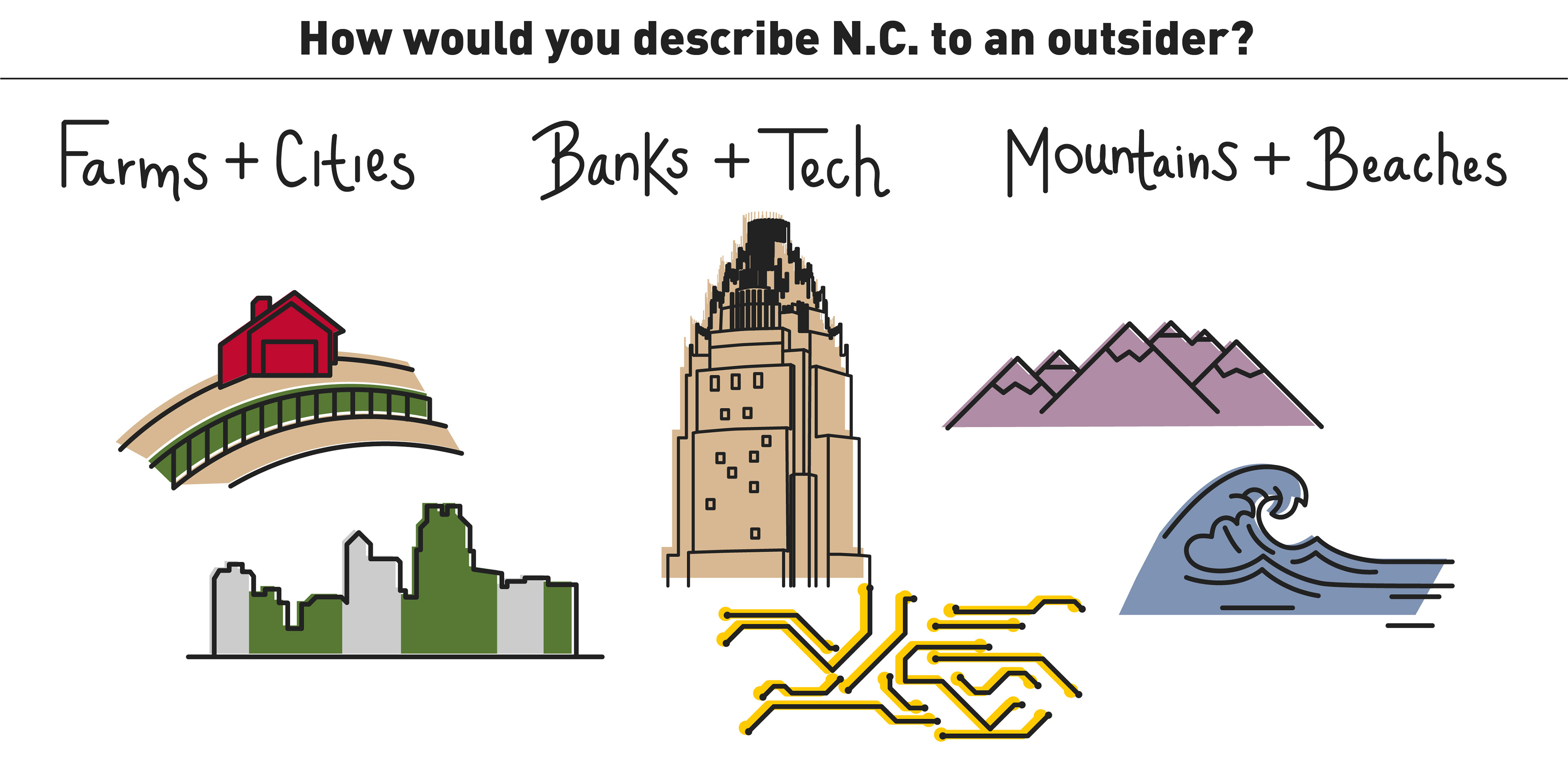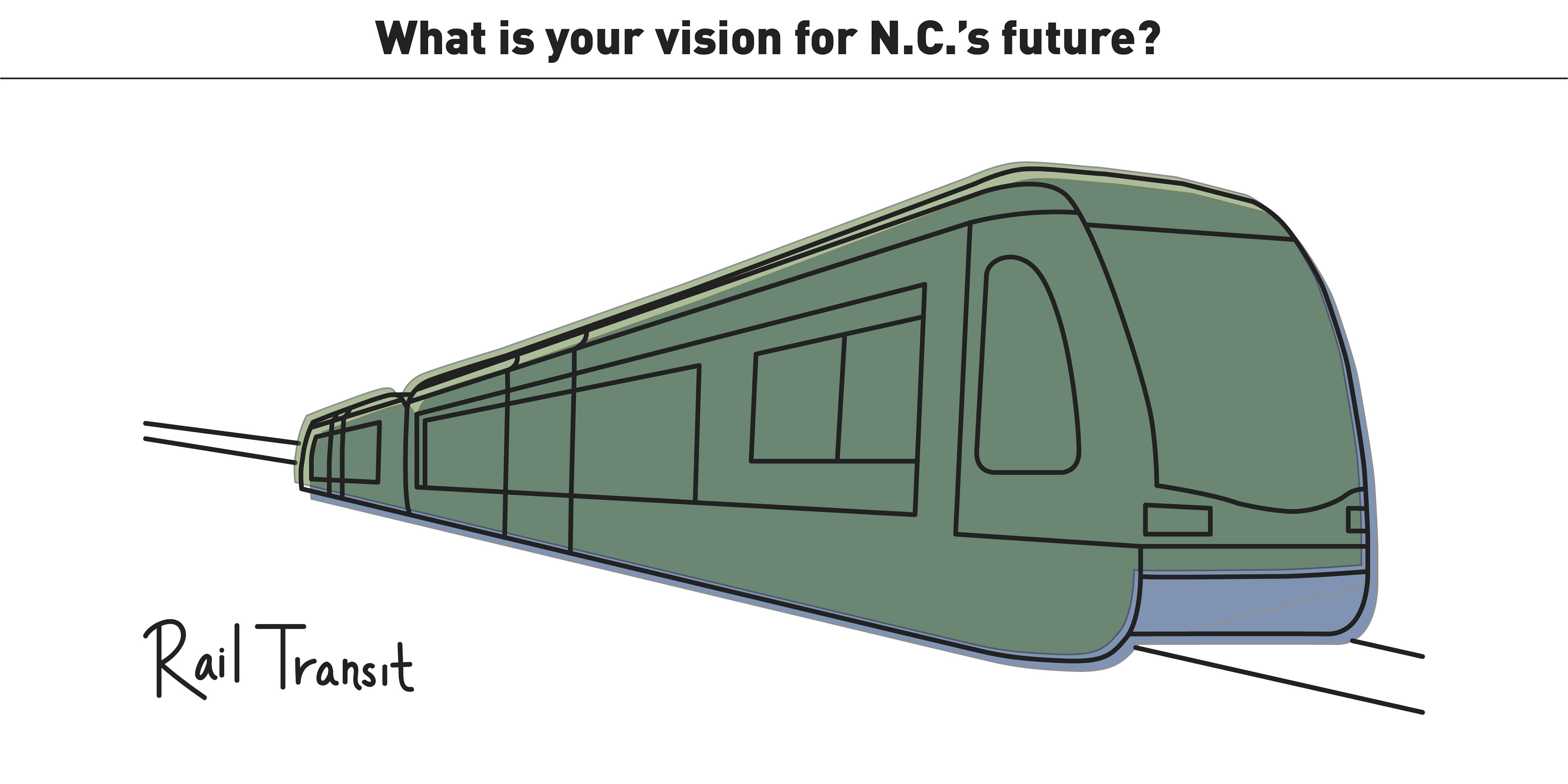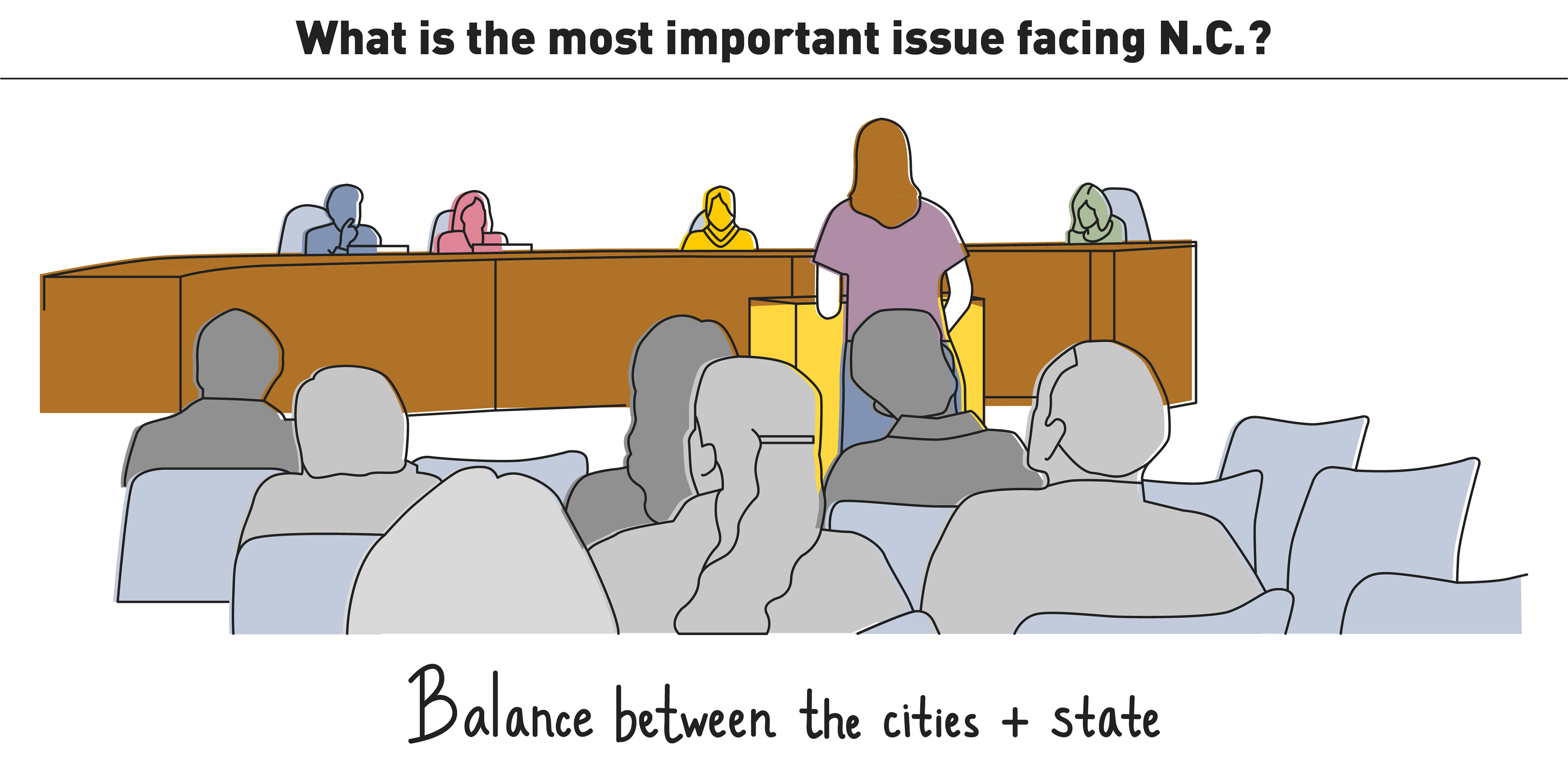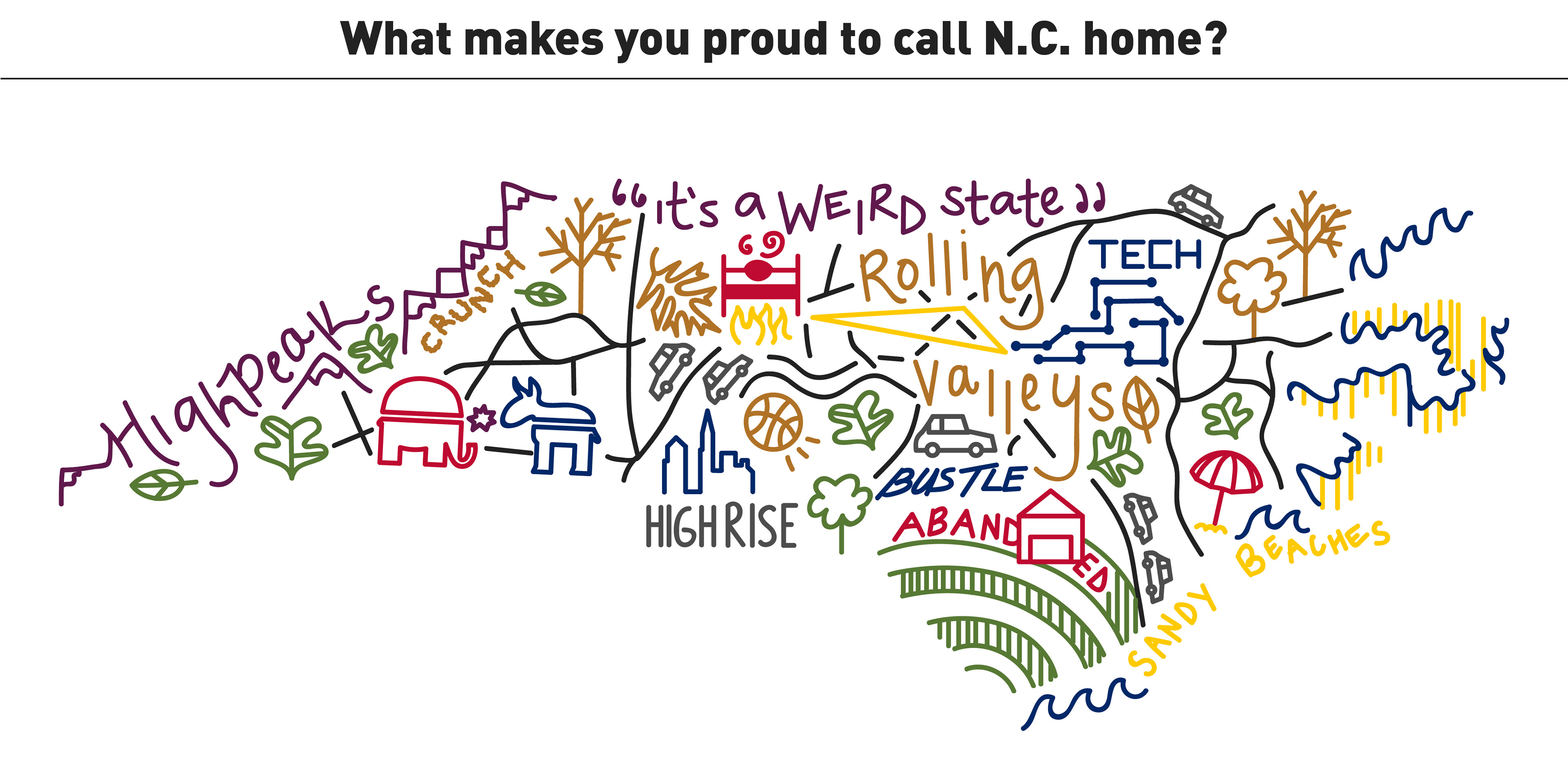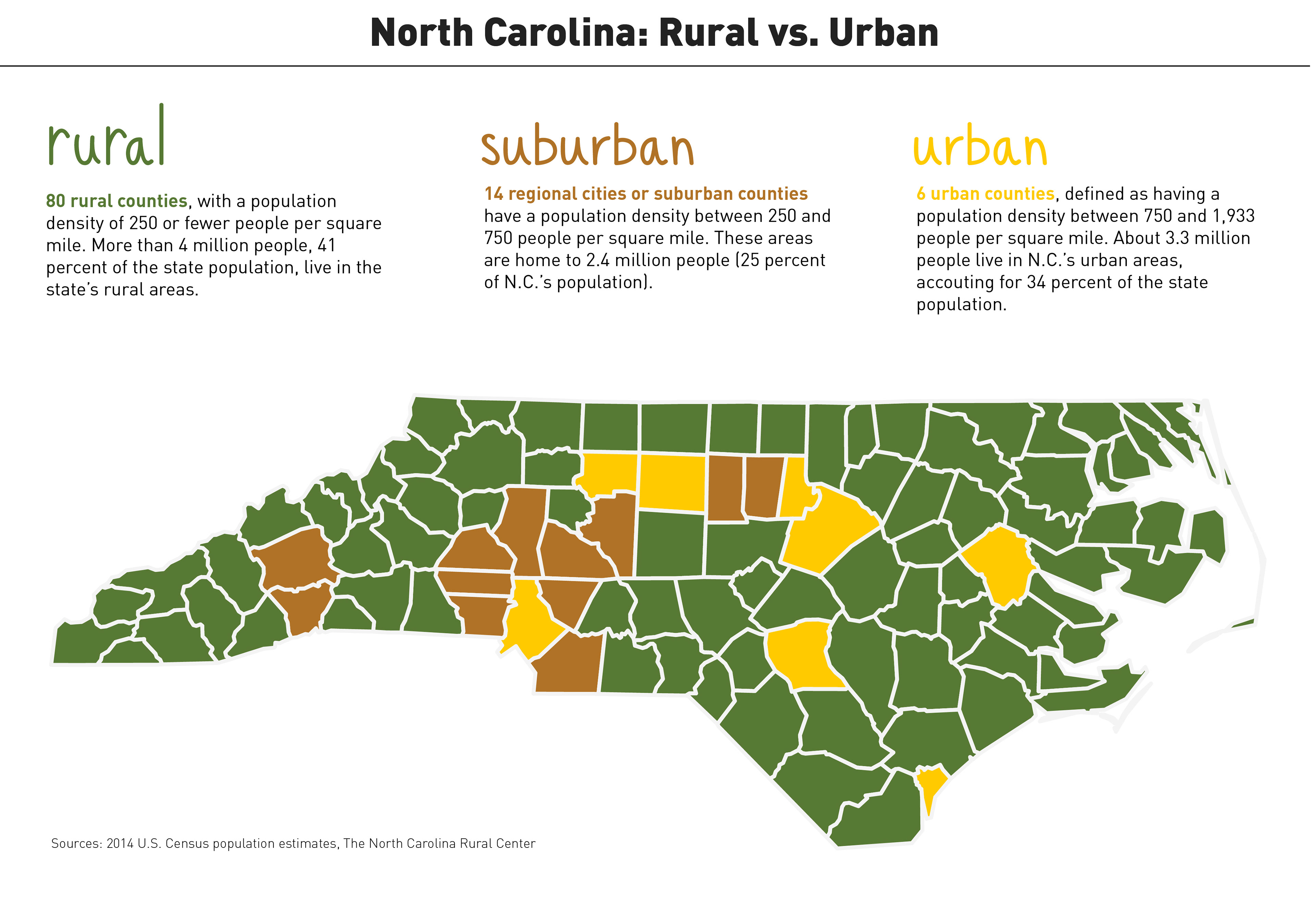 Issue VII: The State of NC
We tested out a new format for Issue VII by breaking our reporting into four parts. We posted four surveys asking locals to weigh in on the future of North Carolina, how they would describe the state to an outsider, what makes them proud to live here and what the state should tackle next. 
Read more
.
We received many thoughtful and descriptive survey responses so I choose to bring them to life through illustration. I drew one main illustration for each part and included several smaller illustrations for responses throughout the article. The header graphic rotates through the most common words used to describe North Carolina in our survey.
"This is the state that gives birth to ideas, and then turns it to action. We have a lot to be proud of, but especially right here in the capital city. We give birth to the Red Hats. We give birth to the share files that becomes Citrix. We give birth to wildflowers. We give birth to The Assembly. We give birth to ideas in this city. I think that's worth celebrating."
–Nick Neptune